After a very busy summer of 2019, we finally had a chance to take a week off and fly to Iceland to do a crazy camping experience there. Our initial goal was to travel there a bit earlier, already during the end of August, but numerous activities pushed us to postpone the travel to the start of September when the colder days were already arriving.
We went there in a very minimalist way with the intent to fly as light and cheap as possible and then do a bit of hiking and driving from spot to spot with a rented car. After doing online research, we knew that a typical Iceland visit is an expensive adventure – so we optimized everything for a low price. And as a matter of fact, we made it a very inexpensive adventure.
The flight – 

Getting to/off Iceland
Being based in Slovenia, our cheapest option to fly to Iceland was from Budapest, using WizzAir airline. At the beginning of September, the main tourist season in Iceland is finishing, and flight ticket prices get lower. We got the tickets in the range of 100 EUR per direction, while one of us flew only with hand luggage, we had one extra 50l bag for all of the camping equipment.
The camping equipment for the cold nights on Iceland 
Our camping equipment included a full kit: the tent, sleeping mats (we got ourselves fancy Vaude Performance mats that pack to the size of a bottle and work down to -3.5 degrees C), as well as sleeping bags (with 6 degrees of "Comfort" rating). Moreover, we also took a small camping stove and dishes with us – the ones useful for hiking.
As we knew the temperatures might drop well below 6 degrees in September, we also took an additional square sleeping bag (a "comfort" one) for 1 person with 10 degrees of "comfort" rating, which we then shared as a blanked over our sleeping bags in the cold nights.
Moreover, we packed plenty of warm clothes, such as skiing underwear, winter trekking trousers, a packable down vest, and a packable down-like jacket – all of those pretty thin pieces of clothing, but if you layer them one on another and then squeeze yourself in a downy sleeping bag, they can keep you warm.
As far as sleeping goes, we were lucky at the beginning of September, and on a couple of nights, we woke up in a frozen tent, but the temperatures never dropped below -3 degrees Celsium, which was on all nights but the coldest one manageable.
However, there were some very windy days, and we knew that if the wind were too much, we would simply go and sleep somewhere inside. I heard the story from a guy who had an experience of a wind in which he could barely stand up in Iceland first-hand, but we didn't have such an occasion.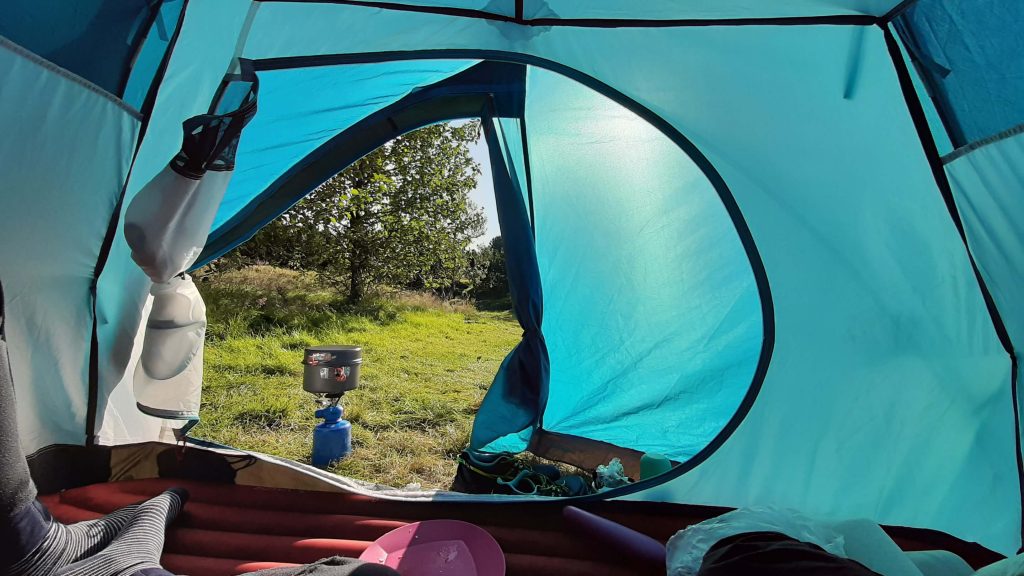 Sleeping on the cheap – camping in Iceland
Every night we stayed in a different campground, and we used the app POIBase Pro to find the campgrounds (Pro version allows you to download the map and use it offline, which is a big deal in Iceland, especially if you don't want to pay hefty roaming costs). Many of the campgrounds are on the farms, as Iceland is very sparsely populated – meaning that in some places, there is a farm and nothing in either direction.
We learned an interesting thing: the cheaper the camping was, the more enjoyable it was for us. In some cases, they offered garages where they likely keep the machinery over the winter as a place where you could shelter and cook. In some cases, hot water was free; in others, hot water was to be paid. But generally, the cheaper campings had really friendly farmer hosts, hot water, and necessities.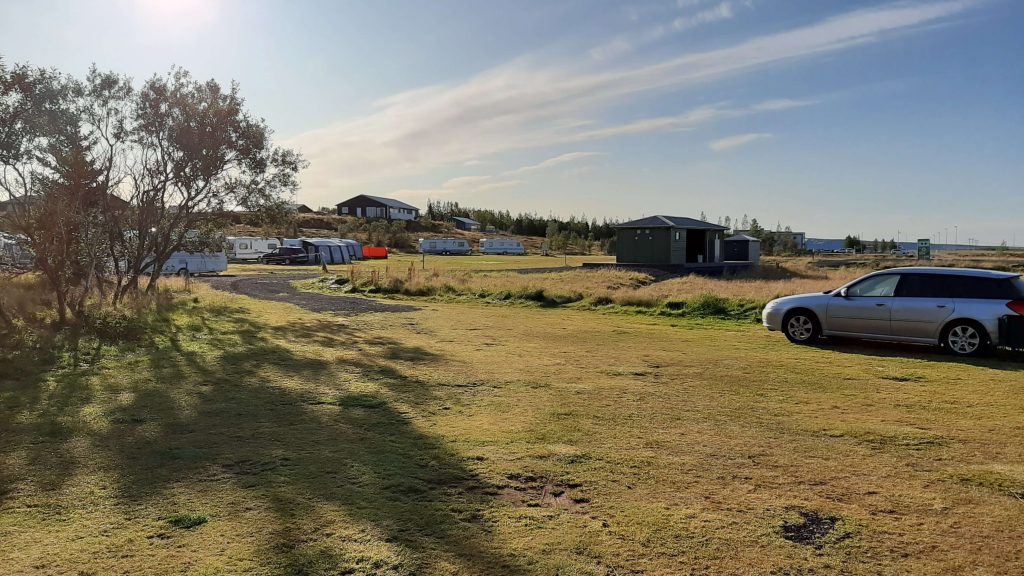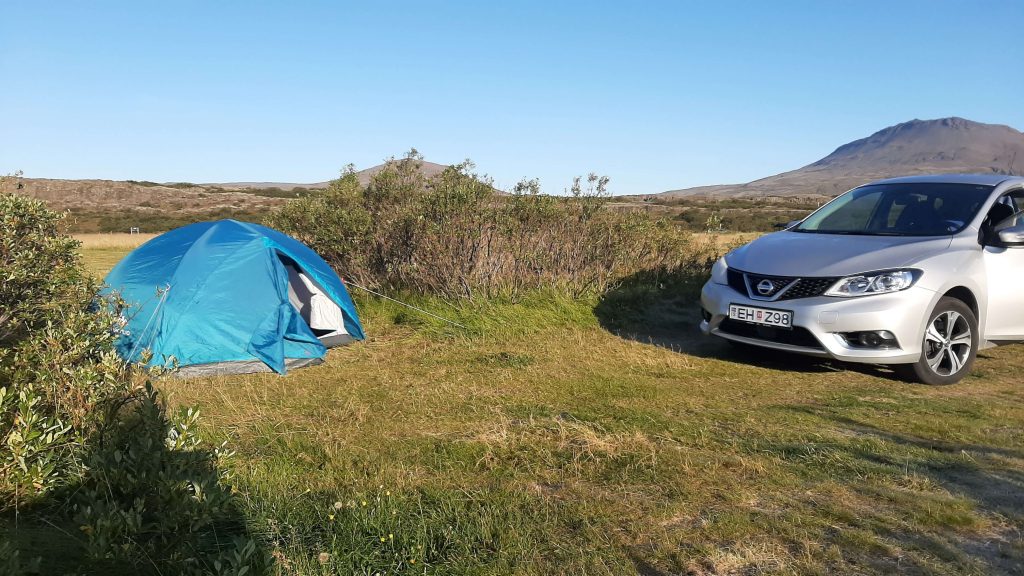 In the cold weather, which is often at least moderately windy, shelter for cooking, for example, is very important. We stayed some days in campsites where there was no shelter, and cooking even a meal that only requires you to add water (e.g. prepared one) is somewhat an effort.
One thing you will see there are the Northern Lights. We did have a chance to observe them 2 nights as there was a decent Aurora activity. There is an app, My Aurora Forecast, which can tell you how big the probability of seeing the Northern Lights is. It's a phenomenon that happens both in the summer and in the winter, and hey – camping is a great way to catch a glimpse of it. It's one of those things you never ever forget.
Cheap Food in Iceland
Before flying to Iceland, we read that food is very expensive – which it indeed is, particularly the fresh one. This is why we even stuffed a part of our bags with some instant/trekking food – we kept the amount of such food low because you should not bring much of the food with you, and there are limitations in what you may and may not bring (make sure to check them!)
We learned 2 things: if you want to camp and cook with your own stove, and need a camping gas, pretty much in every camping, there is a container of it that somebody before you left there. After renting a car, we drove straight into the shop to buy it, and the price was somewhat ridiculous, like 15 EUR for the bottle of gas. Then in all campgrounds, we found at least 2 or 3 of half-full ones in the "take if you need" section – and left ours there as well. So, save the 15 EUR and the environment – and just go to the first camping ground and grab the thing.
As for shopping, we usually went to Bonus, it's one of the cheapest shops. The general rule is that fresh food, particularly fruits and vegetables, are expensive in Iceland – while the prepacked and instant food, which has a long shelf life, is not so ridiculously expensive, despite the fact that yes, everything is "a bit more expensive" than in most of Europe.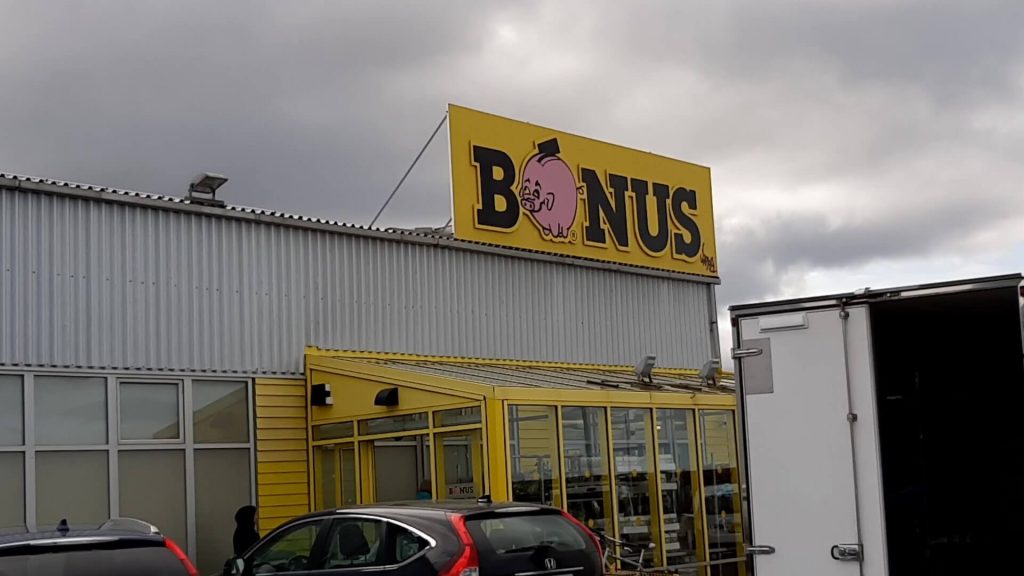 With that being said, if you stay there for a week, are ready to eat some more spaghetti and rice to save money, and cook in your camping gear, just go to a Bonus store and do it – you'll end up in a very economical way, pretty much not spending any extra on food.
Another thing you see everywhere on the gas stations are hot dogs. Yes, they are not the best food, but they are a good break from camping food, and the price is somewhat low for the circumstances of Iceland. So want to eat cheap on the go? Hot dog on a station.
Travel around Iceland
Want to move around as easily as possible and see as much as you want in a week? Well, your best bet is to rent a car. The distances between different places are so vast that any other option pretty much doesn't exist. We opted for Geysir rent-a-car company which provided us with a car in a good state at a competitive price. They offer various insurance packages, like the ones against some kind of sandstorms and whatever, but we did not encounter anything nearly as dramatic in our week there, so probably I would not take that insurance if we went there again. The weather is cold and windy, but apart from that, it was the weather like in Europe on a dry winter.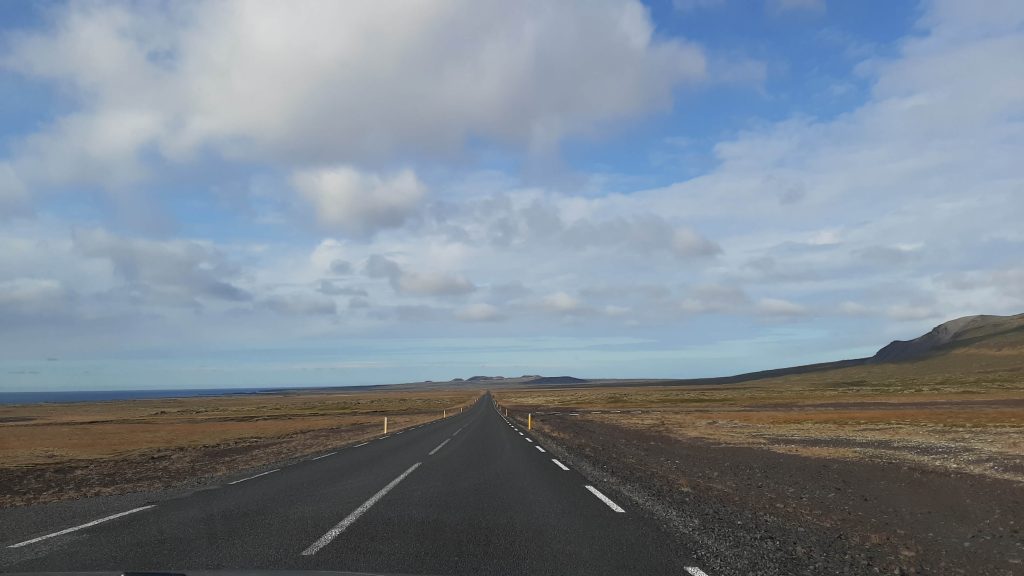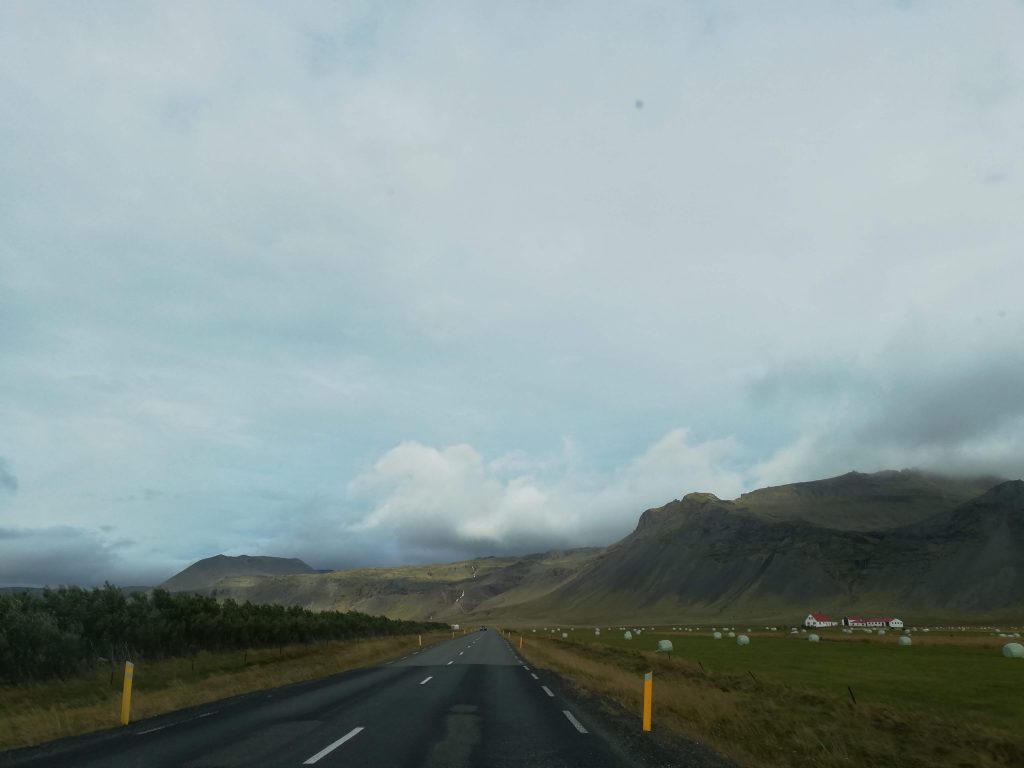 While we didn't get a manual as we reserved but got an automatic car instead (many US drivers there, as it's halfway between Europe and the US), and the guy at the airport who rented us a car was not super-friendly, they were correct, and the car was in good condition, so I can generally somewhat recommend the company – especially if you are looking for the cheap option, they are likely it.
Adventure on the cheap 
Now, if you read up to this point, you probably have an idea that already eating, sleeping, and moving around was an adventure of its kind (and not more expensive than it would be in mainland Europe). But it was not all: we also had that cool itinerary that we built a bit during the research prior to the trip, and a bit "on the go", like we often do – as you always learn about new places from other travelers, or see signposts once you are there.
Again, in a week and on the cheap, we didn't opt to drive around Iceland as many people do. We prefer to breathe some fresh air, hike a bit and feel the place, rather than stay in the car and pump mileage on our travels – so we picked a route that was manageable in a week.
Iceland in a week
We drove from Reykjavik Airport to Snæfellsjökull National Park, stopping on a hike to the magnificent Glymur Waterfall. We spent the 1st night on a farm somewhat close to the Glymur Waterfall, to which we hiked the 2nd day, and it really is an amazing hike. The waterfall is really magnificent, and you can do a circle if you are ready to cross the freezing cold river on top. For that crossing, we needed to take our shoes off, as the river is as high as up to your knees in some spots – and it's super cold. So cold I didn't even feel my feet for a while after the crossing. But eventually, with the hike, you first feel some tingling and then your feet, and as you walk for a couple of minutes, your feet start to work normally again.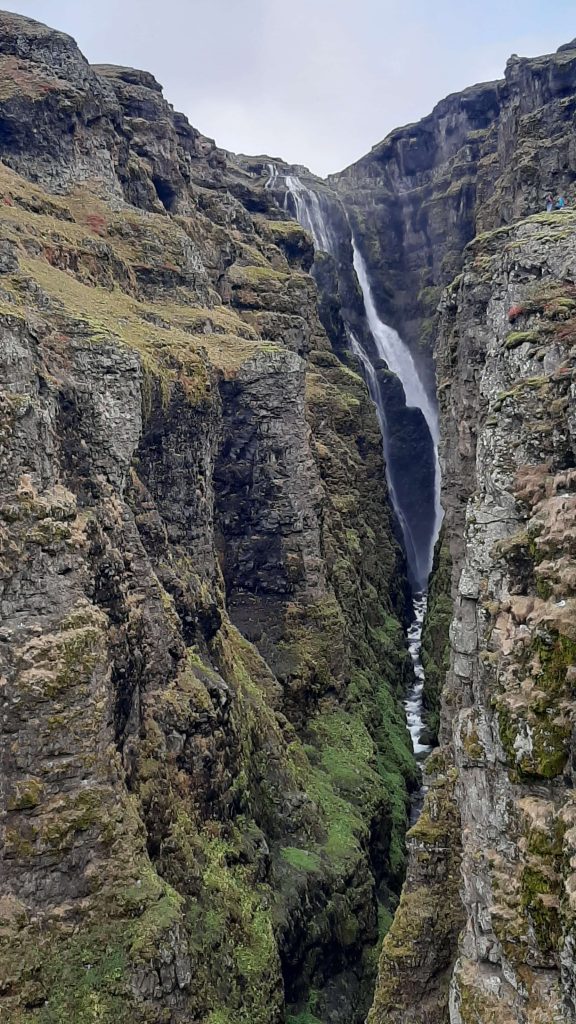 The drive to Snæfellsjökull National Park is pretty long, but the road is good, and the landscape is gorgeous, so it passes. The peninsula of the park offers a number of amazing landscapes and landmarks to see, including a waterfall in the cave, old volcanoes, and a beautiful rugged coastline. Enough words have a look at the pictures below. Most of those points are accessible with a car, without much walking, and many of them get packed with tourists that come in groups.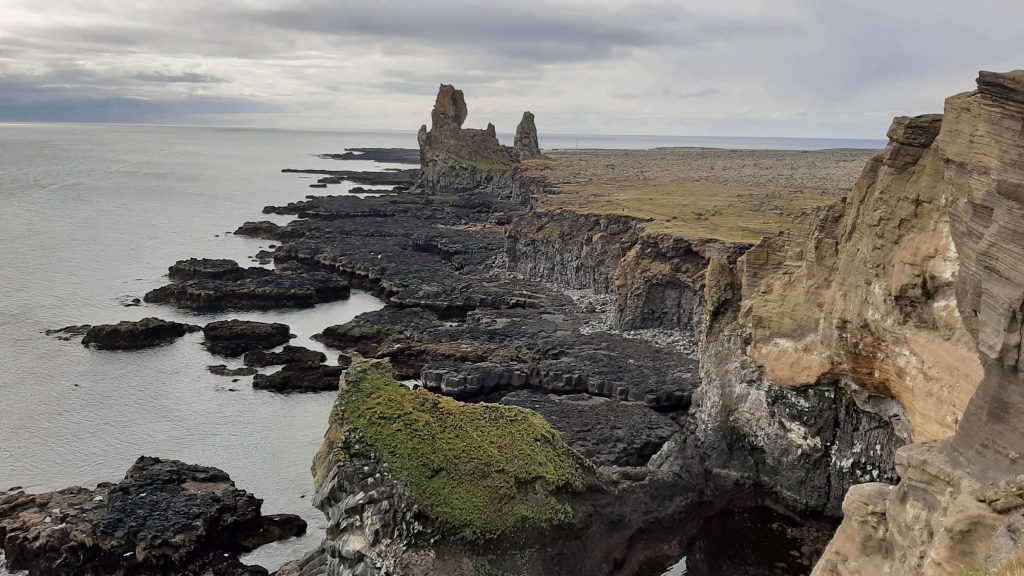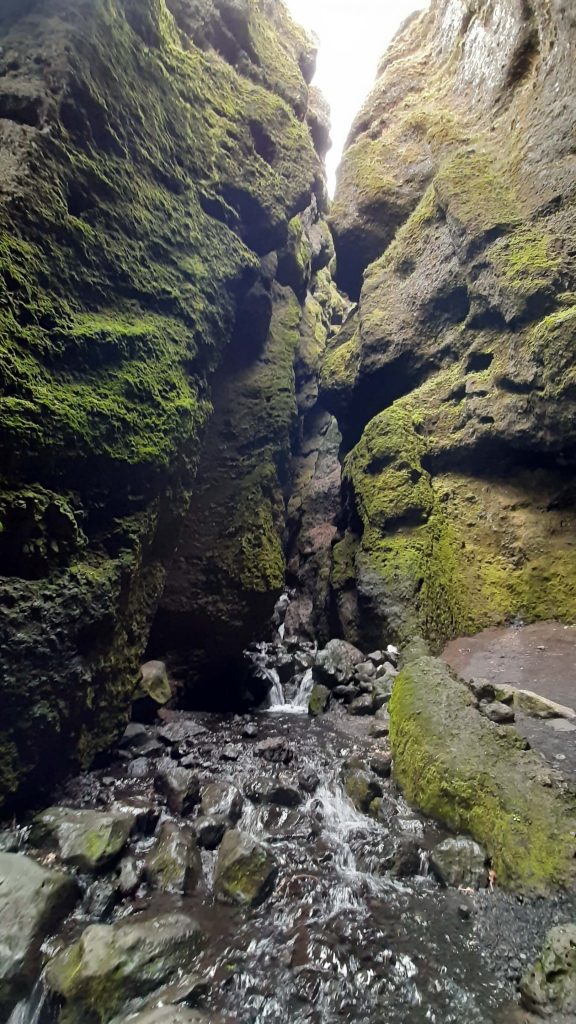 Urska's note: When traveling around Iceland, you will notice another Islandic specialty, Icelandic horses. They are descendants of the ancient horses of the Icelandic Vikings. And are famous for their five-leggedness gaits (step, trot, gallop, TÖLT, and belt), friendly character, lively temperament, and colorful and thick hair. Icelandic horses are long-lived, small, and hardy – they can easily carry 1/3 of their weight, thus surpassing all other breeds of horses. There are about 160,000 Icelandic horses in Europe; 80,000 of them live in Iceland.

Icelandic horses will melt your heart.
From there on, we drove to Þingvellir: a place where the Icelanders formed their first parliament and where the tectonic plates of Europe and Americas are moving apart, leaving a large valley between them. The place has very beautiful lakes and is generally very touristic – but definitely worth visiting. There is a nice camping ground in the vicinity as well.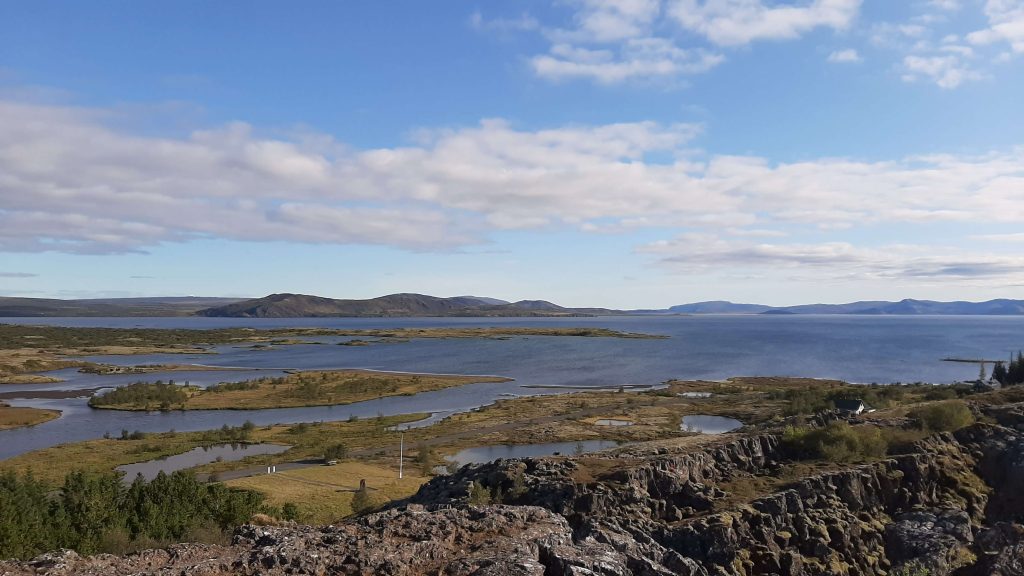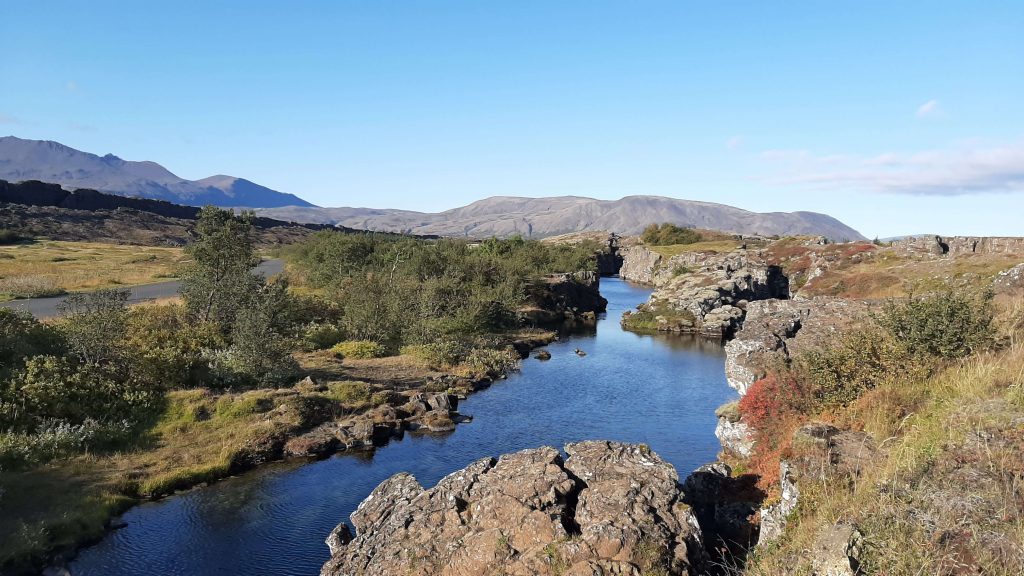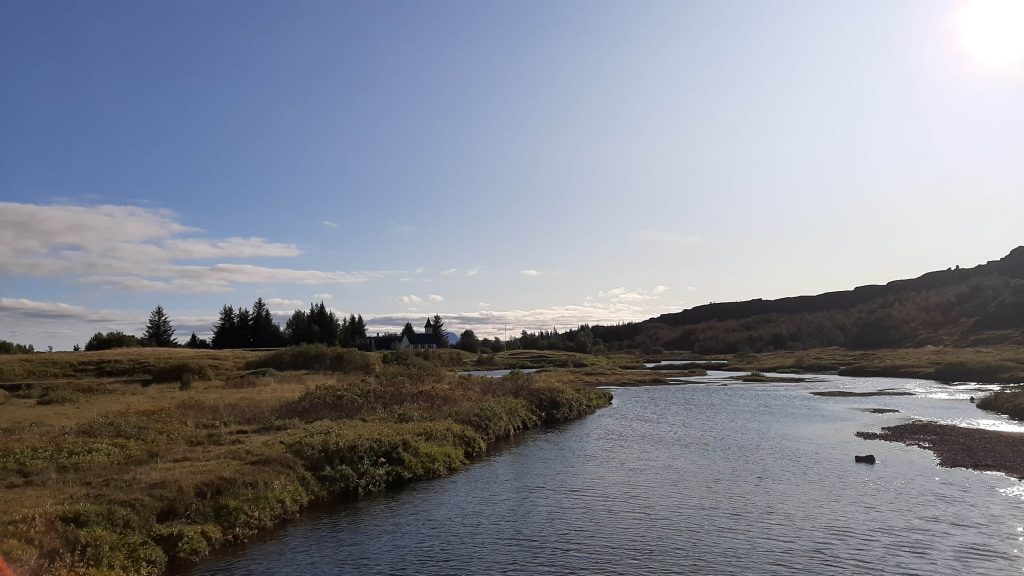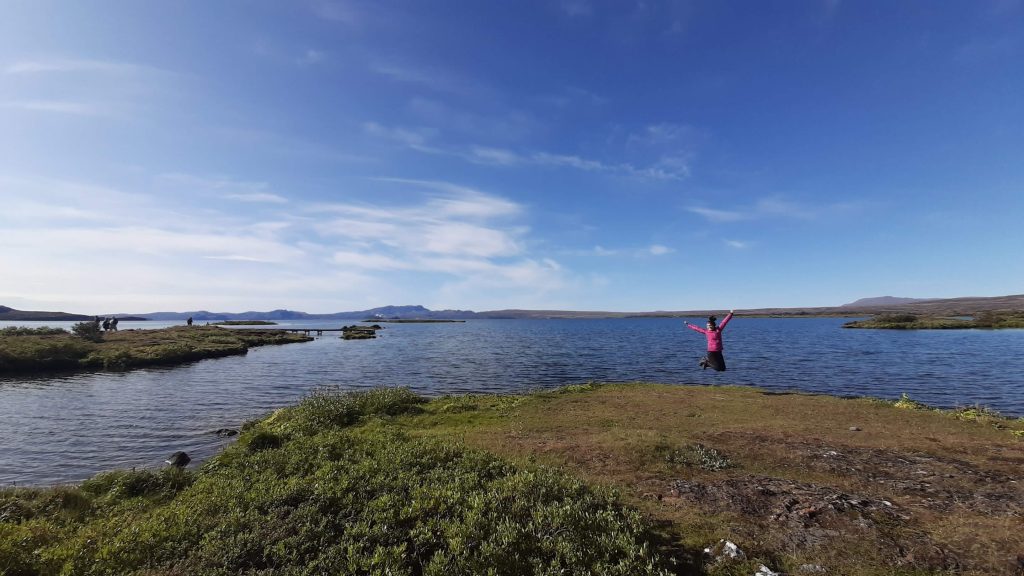 From Þingvellir, we drove to the area of Reykjadalur as well as to the area of the Great Geysir and Gullfoss waterfall. All of those areas are very touristy, but Reykjadalur requires a bit of a hike and treats you with a swim in the warm river – another thing that made us really happy, and another thing you just don't easily forget.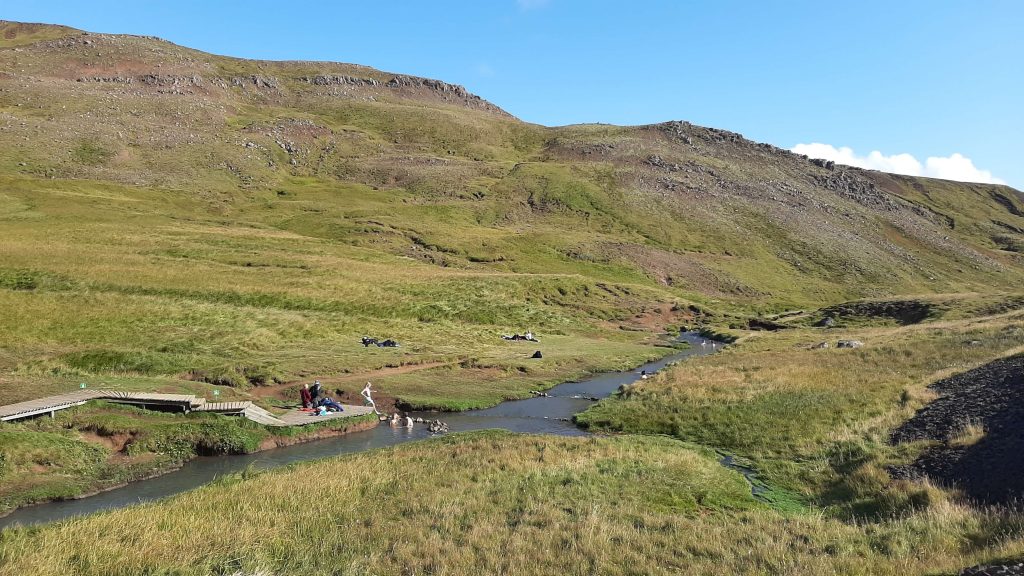 The Geysir, as well as the Gullfoss waterfall, were at the time of our visit extremely populated by tourists, and while they offer a truly special display of nature's power and ability, we must say that the touristy crowds made us feel more like we're in an amusement park than on some kind of an adventure.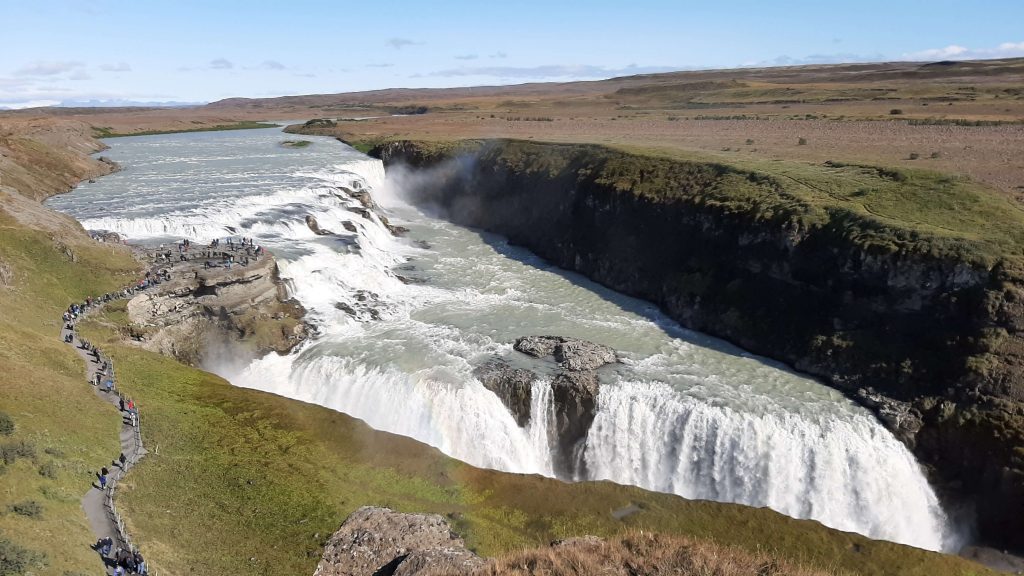 Visiting Reykjavik on the cheap
We moved from this area back to Reykjavik, where we stayed at the camp before moving to the last campsite near the airport (and then flying back to Europe).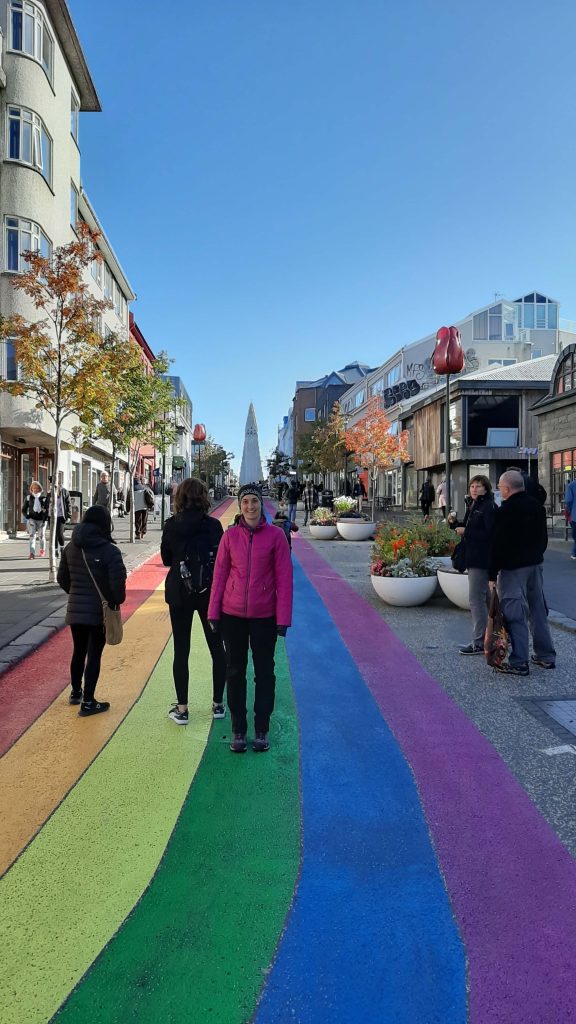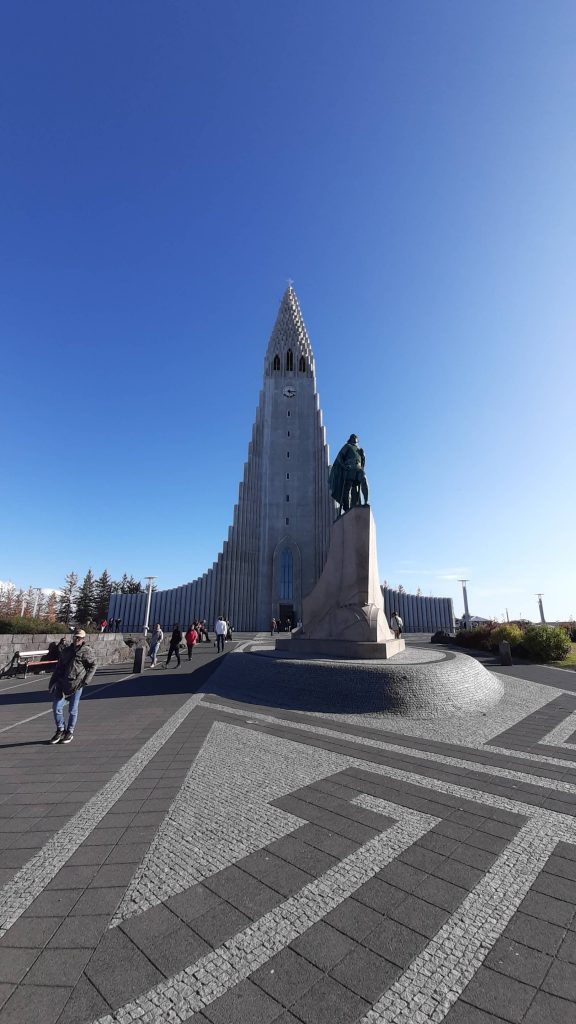 In Reykjavik, we must admit that we didn't like camping as much as out there in the countryside. It was warmer, which was definitely a plus, but less clean, more expensive, and much more crowded.
We visited the city and also one of Iceland's public pools – the one in the city. One interesting rule they have is that everyone needs to shower with a soap completely naked before moving into the pools, men and women in separate places. After that, you may enjoy the public pools of different temperatures, and we really did enjoy them for plenty of time. It was our "blue lagoon on the cheap" edition, as we liked to joke – and we definitely like to recommend it to everyone. While Blue Lagoon is well known, booked in advance, overcrowded, and vastly overpriced, such an authentic experience in the city of Reykjavik is inexpensive and just as pleasant. But we admit, it's not instagrammable… :)))
Pin for later!
Author:
Matic
Matic is tech startup guy who loves to spend time outside. In his free time he is an true outdoor freak – he tends to surf, run and ride a mountain bike, and in the winter time just loves powder skiing and snowboarding. Matic also loves to travel, often has to because of work, and even more often because he wants to 🙂
If you like, please share and spread the love :)