Would like to do minimalist camping with a minimum amount of equipment and don't know where to start? You're on the right place 🙂 I have put together some minimalist camping tips you can use, as well as a packing list for every minimalist camper.
By doing minimalist camping, what I have in mind is camping with a minimum amount of equipment and a small tent. This may be the preferred way of camping if you want to travel light to the destination (eg. by carrying all of the camping equipment to a campsite – hiking or somehow differently; or when traveling only with a carry-on baggage on the plane).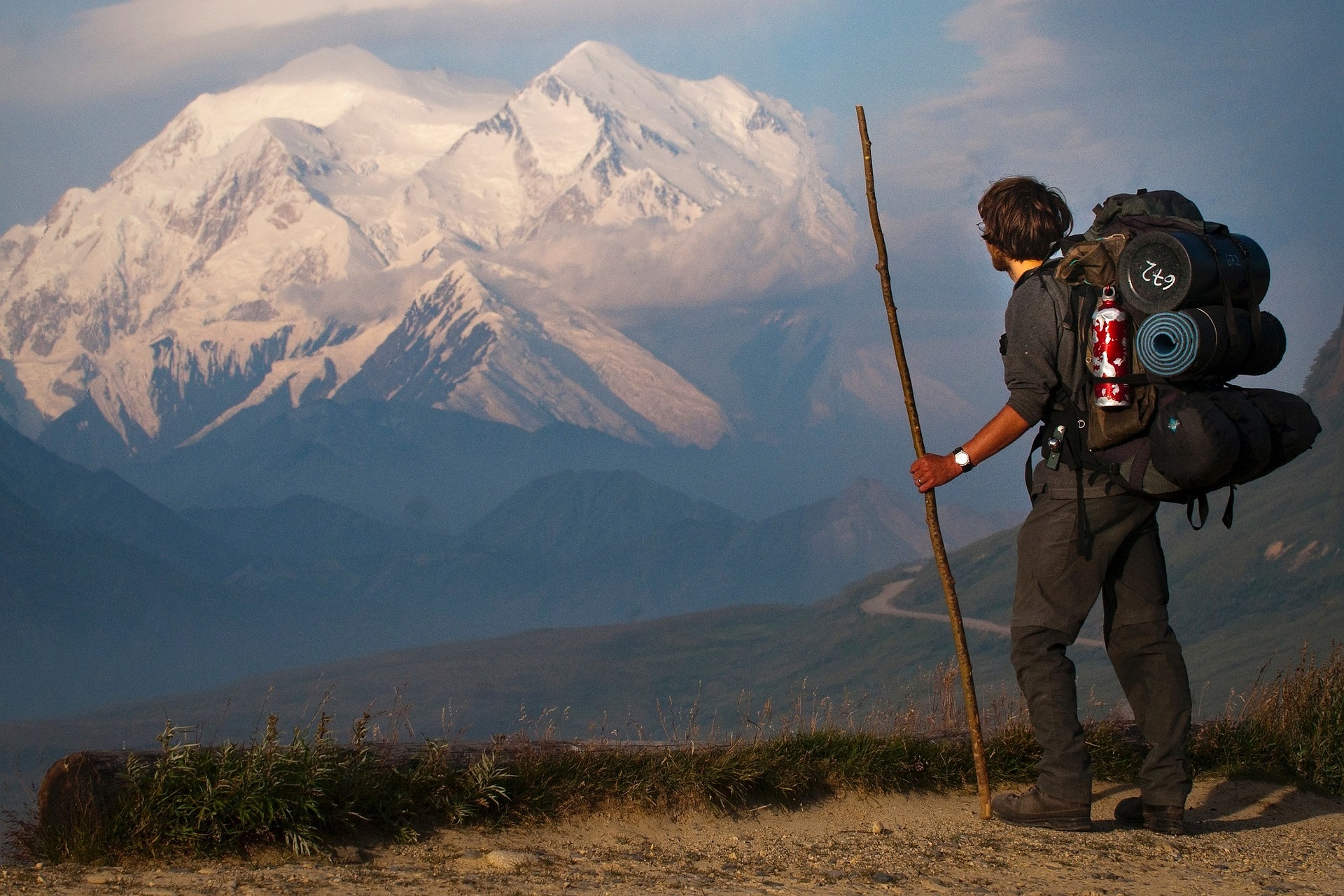 Minimalist camping hacks 
-> In a cooler climate, and if having a minimal, thin sleeping bag, then dress plenty of clothes. If it feels too warm, then open your sleeping bag, and wait for the moment when you start feeling the cold. Normally, just with the first light, it gets cooler and if not sooner, probably then you will get just barely enough awake that it will make sense for you to close your sleeping bag and enjoy the rest of the sleep being warm.
-> If it gets too cold and there is a hot shower nearby, use it – it helps. If not, put on more clothes.
-> Whenever camping, have your earplugs handy, so in case of noise, you can put them in your ears. And sleep on.
-> Don't drink before sleeping, unless really necessary. That way, you will reduce the chance for the walk in the cold to the toilet.
-> Need a pillow? What I do almost always is filling some clothes in the bag of a sleeping bag, and use this as a pillow. It's comfy!
-> Try to put a tent in a place which is: (1) flat, (2) drained, (3) in the shadow in the morning. That way, you will sleep better – and longer in the morning. 🙂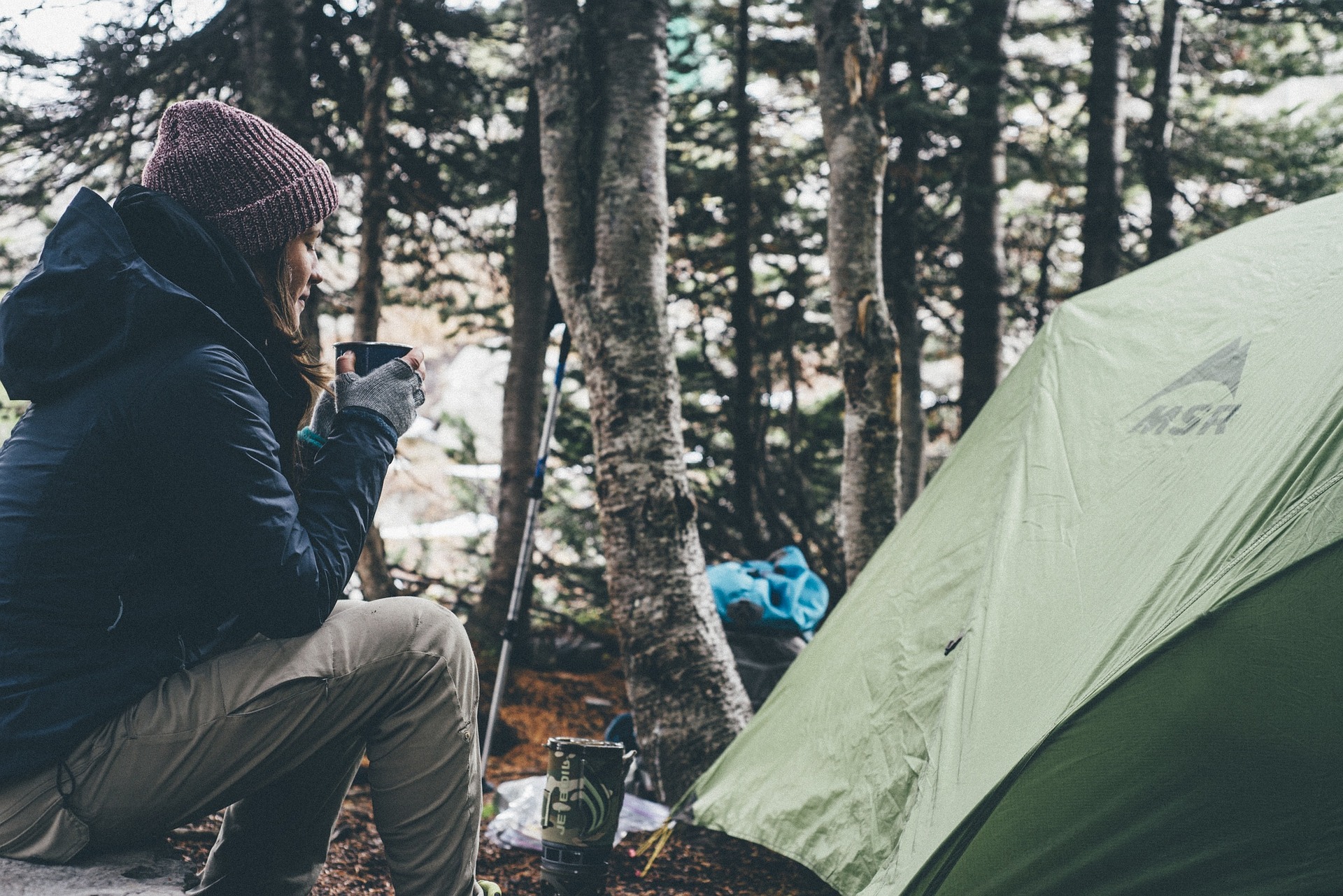 -> Using a simple foamy sleeping mattress, or even being without one, sleeping in positions you may be used to from home, can get painful. Have a strategy for your sleep: you may want to start on the back, then bend over to one of your hips, then to another, and alternate those positions through the night. From experience, after a week or so, sleeping on the solid ground will feel just as fine as sleeping on the bed. 🙂
Minimalist camping packing list
If you want to travel and camp in the most minimalistic way possible, but still have enough comfort to do everything you want, here is a minimalist camping packing list which may come in handy:
A small, easy to set-up tent, like this Quechua hiker tent for 2 persons.
Self-inflatable mats, which are inflated and deflated without a pump and can add a lot of comforts while taking a small of space. I love ultralight and compact camping sleeping pad for backpacking from Flyton.
A sleeping bag of the adequate warmth level. Before you buy one read which are the most important things to consider before buying a sleeping bag.
Optionally, a very useful thing, especially in more wild / less equipped / campings is a headlamp, I have this one from Petzl.
A smartphone (doh).
A picnic blanket which you can use to sit down while eating breakfast, resting, and so on if there is no place for sitting nearby. I like this waterproof picnic blanket from Songmics, however, if you don't have space for the blanket, you can always sit on the floor or use the sleeping mat. 😉
A set of cooking pots for camping. The special camping models can be awesome as they do not weight a lot, neither take a lot of space. However, make sure to buy one with a mesh bag for convenient carryings, such as this one.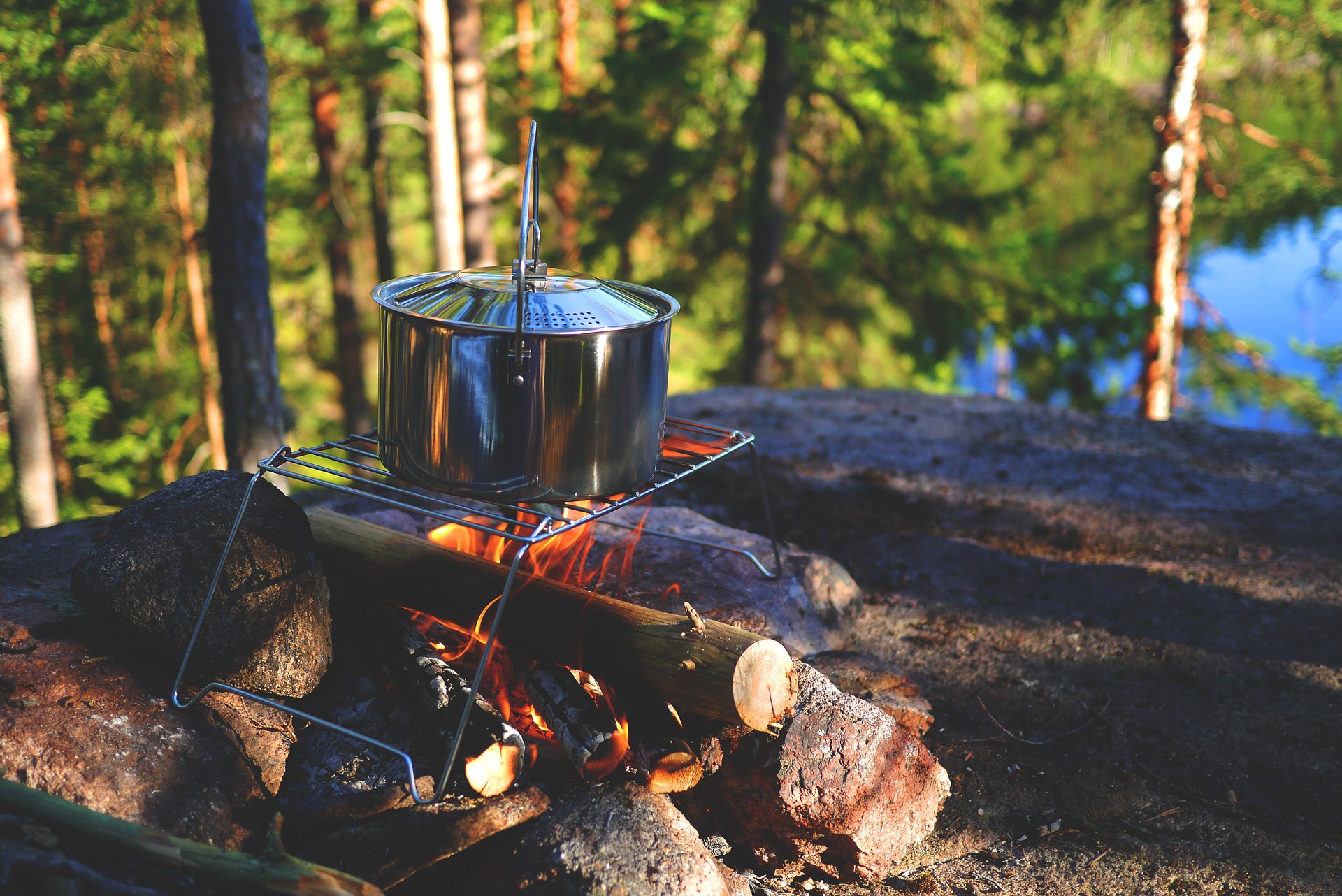 A "swiss knife" which includes a spoon, fork, and a knife. If possible buy one which also has a bottle opener, like this Practical outdoor cutlery, you will need it.
A water bottle for hydration. Although I prefer glass bottles in everyday life, they are not very in handy when hiking and camping as they are heavy. While plastic bottles often give a strange taste to a water. I like the ones made from aluminum as they are light, plus the water will not get a "plastic" taste. I have a water bottle from Quechua and so far I like it a lot.
And a big smile on your face. 🙂
Ok, now it's time for you to pack and go for a minimalist camping adventure. When you come back, don't forget to let us know how it was.
Pin for later…
Disclaimer: This post contains affiliate links. If you click on one and make a purchase, we might make a little extra spending money, at no extra cost to you. All opinions are our own and these products have been found useful during our travels and come highly recommended to you.
Author:
Matic
Matic is tech startup guy who loves to spend time outside. In his free time he is an true outdoor freak – he tends to surf, run and ride a mountain bike, and in the winter time just loves powder skiing and snowboarding. Matic also loves to travel, often has to because of work, and even more often because he wants to 🙂
If you like, please share and spread the love :)