I travel with hand luggage. Be it a business trip, camping, a surftrip, or anything inbetween. And I travel literally all of the time. The best bag I managed to found was a duffel bag which can be taken on cheap airliner's, like Ryanair plane as a hand luggage and is as useful as it gets.
Last year, I spent a few months in a beautiful city of Bordeaux from which I flew to some events in the other corners of Europe. On one fair in Germany, I met with my brother and father, and since they travelled there with a car, they brought me a few extra clothes for the winter from home, which then roamed with me to Bordeaux. And then the time came for me to leave this beautiful city, and I found out that I have just too much (valuable) luggage. What to do? Well, buy an extra luggage space on the plane. And… a bag! Now what was I to buy if not something that I didn't yet have and was suposed to be useful in the future? There was The North Face outlet nearby and they had this really awesome bag – which later became my ultimate bag which travels with me anywhere I go.
Here it goes, my hand luggage travel duffel bag 🙂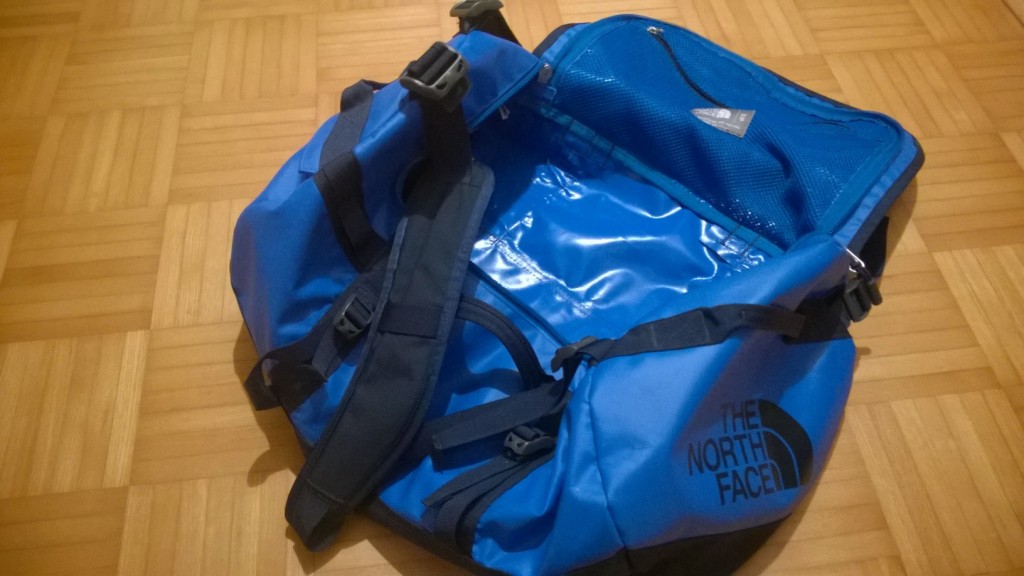 This duffel bag is perfect to take everything in hand luggage with you even when flying with cheap airlines like Ryanair, and is:
50 liters large so it fits everything you need to live and work
foldable so you can stick it in a small space when not used (super-useful on sailboat or when limited with space)
waterproof – I leave it outside of the small tent when sleeping; there was rain pouring on it, and everyhing inside stayed perfectly clean
it has the alpine backpack style shoulder straps, which make it comfortable for carrying on long distances
when you open it up, the opening is very big so you don't have to throw everything out and make a mess to reach that pair of socks in the right bottom corner
it has a bunch of handles so when taking it out of the luggage compartment on the plane/bus/train, it doesn't matter how it was oriented, you can always get a good grip on it
it is light and has zero additional material that I carry with me when travelling. Just my baggage, it's protection, and handles that make carrying comfortable.
the material is easy to clean with a water and soap – nothing makes it so dirty that it would be hard to clean it
and after washing it with water, you can wipe it dry on the inside and put the baggage inside the next moment – no time needed for drying!
It's simply the best bag for traveling. It's not a bag for trekking and hiking, but to travel with different means of transport, and even to walk fairly long distances (like hiking between villages or doing autostop – tested) with it on the back – for those purposes, it's simply the best possible bag you can imagine. You can get one here: The North Face Base Camp Duffel Bag , Tnf Black, 56 x 34 x 28 cm, 50 Liter
Pin for later…

Disclaimer: This post contains affiliate links. If you click on one and make a purchase, we might make a little extra spending money, at no extra cost to you. All opinions are our own and these products have been found useful during our travels and come highly recommended to you.
Author:
Matic
Matic is tech startup guy who loves to spend time outside. In his free time he is an true outdoor freak – he tends to surf, run and ride a mountain bike, and in the winter time just loves powder skiing and snowboarding. Matic also loves to travel, often has to because of work, and even more often because he wants to 🙂
If you like, please share and spread the love :)