Slovenia has a number of ski resorts, and many of them boast lift-assisted bike parks for quite a few years already. Despite not being as known as the resorts in Austria, Italy or France, Slovenia's resorts can offer everything from high mountain experience to soft hills and lush green woods to ride in. And diversity doesn't come just in the form of the landscape, but also in the form of the trails: from soft trails at Pohorje, all the way to high alpine bike parks like Kanin, Slovenia is a paradise for a traveling downhiller.
Probably the most known to the foreigner, and some of the longest-existing bike parks in Slovenia, are Mariborsko Pohorje and Kranjska Gora. Those two otherwise popular ski resorts also host some world-class competitions, like ski world cup (for women in Maribor and for men in Kranjska Gora) in the winter – and get the attention of the lovers of ski sport from the whole planet at least once a year. But the resorts also host Mountainbike competitions – particularly Maribor was for many years a Downhill World Cup Finals venue, as well as hosted iXS Series races in the recent years. And no wonder why – there are really world class tracks available in Slovenia.
Top 5 lift-accessed bike parks in Slovenia
An ex- Downhill World Cup Finals venue, Mariborsko Pohorje stretches from the city of Maribor, Slovenia's 2nd largest city which can offer everything from all amenities, opportunity to visit the city, to partying, up to the top of the hills of Pohorje. There is a modern gondola (cable car) that takes you right from the city to the top, with a really nice view of the city – and from there, a number of trails start down the hill. Besides the famous black World Cup Track with Rock'n'roll and other technical and fast sections, there is a Flow Trail that works for less experienced riders (especially early in the season while it is still well-formed, as later on it can get slightly destroyed), and a Red Line which offers the middle way back down.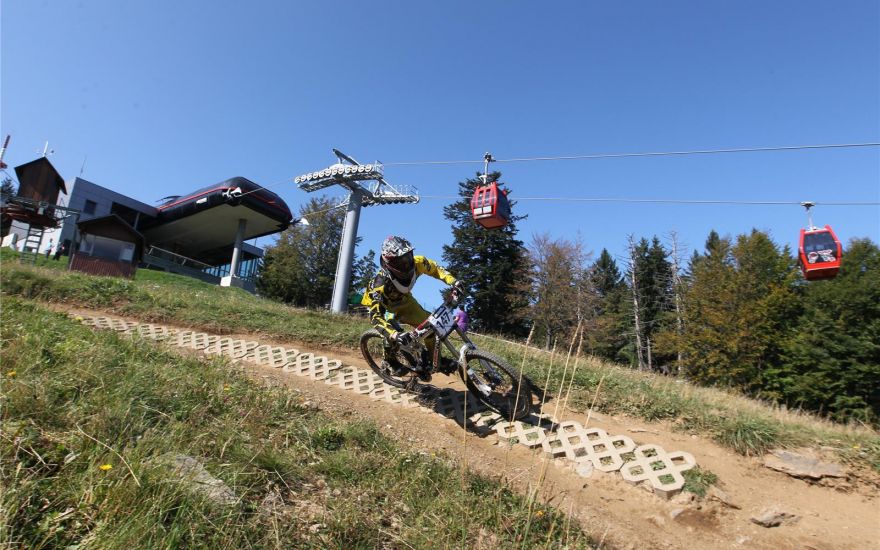 Back in the days, some phenomenal sections like The Stream were boasting a bit of North Shore style over the Pohorje streams, but an icing that destroyed many trees destroyed some of those segments. Besides all of those tracks, there is also plenty of other ways down the mountain, which are not part of the bike park. Really nice place for riding, which can offer you connection with the bike town of Ruše – either through the all-mountain ride over of Pohorje and a downhill to Ruše, or around Pohorje with a free bus for bikers, or by pedaling on the bike path between Ruše and Maribor.
A bike park in the middle of the alpine, mountainous region of Gorenjska, Kranjska Gora bike park offers scenic views and crazy trails. The lift to assist you to get on top is a chairlift, on which you can sit with a friend of yours, breathe fresh mountain air, and chat about the selection of your next line: there is a variety of trails coming down, that includes everything from fast bounds slaloms, wood sections, drops, and kickers, to a downhill school where you can even get a guide/instructor and perfect your riding even further, should that be necessary.
It's a bike park on which I personally sat on the downhill mountain bike first, and tried out the object riding in the park for the first time – and it's perfect for that, as one can find objects for every ability, and can combine them down the way to build a "trail of progression" with every ride. Perfect if you travel with somebody who wants to learn the technique, but also if you just want to hit it hard – you will not be disappointed in any way!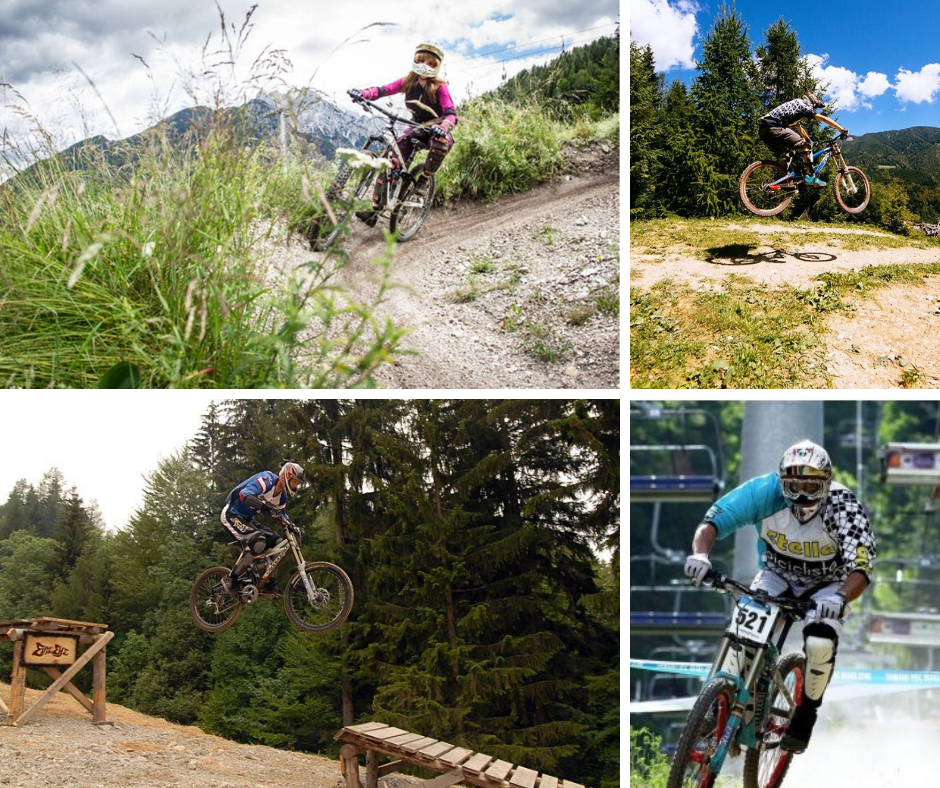 A ski resort, most popular with Slovenia's capital city, Ljubljana, because of it's proximity to Ljubljana, has some nice, and very long, trails from the mountain down to the valley available. This bike park stretches along (well, not really along, but from top to bottom of) the gondola cablecar access that takes you from the valley to the mountain of Krvavec, from where the ski tracks start.
For a long time, there was just a shorter trail for everyone's ability on the top of the hill, where the ski terrains are, and an illegal pro-level trail which could take you all the way down to the start of the gondola. For the last few years, the trail that leads to the bottom of the gondola was legalized and open as a hard trail (and particularly on the top part, it is quite technical, then it gets easier as you descend), while new easier downhill trail from top to bottom is also available in recent years (Muci – this one is nice for all ability levels when dry), as well as some Enduro tracks on top of the mountain that take you from the gondola all the way to the start of Muci through the scenic landscape of Krvavec. There are so beautiful views that it makes sense to visit already for that alone – but the riding is no less of a world-class either.

Rogla is a ski resort on Pohorje with a wide range of bike trails: from black ones for the experts, to really easy ones for the first-timers on the downhill bike. You can also rent bikes there, and they have a service. The lift is a quite slow 4-seat chairlift, which means that it will not be as exhausting as the other bike parks – plenty of time for resting between the rides. The landscape is very beautiful, and there are many nice walks and hikes (and rides) from the area as well. Below Rogla, in Zreče, there are also thermal pools – can be a very nice combination to relax there after a day of riding.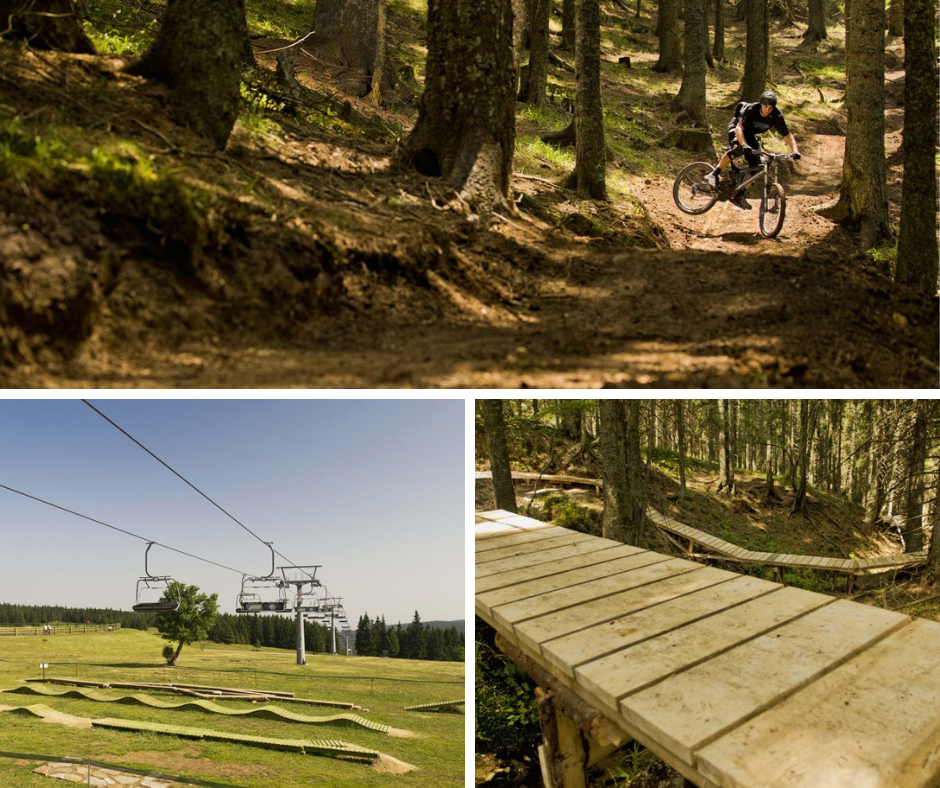 Javornik is a ski center closer to the seaside. A small ski center with a small bike park, which was started by the locals who loved to ride – and offered some really good tracks already back then. We must admit that our last visit was quite a while ago to Javornik, but the memories are super-good, and we are sure that they still keep on doing a good job with the bike park.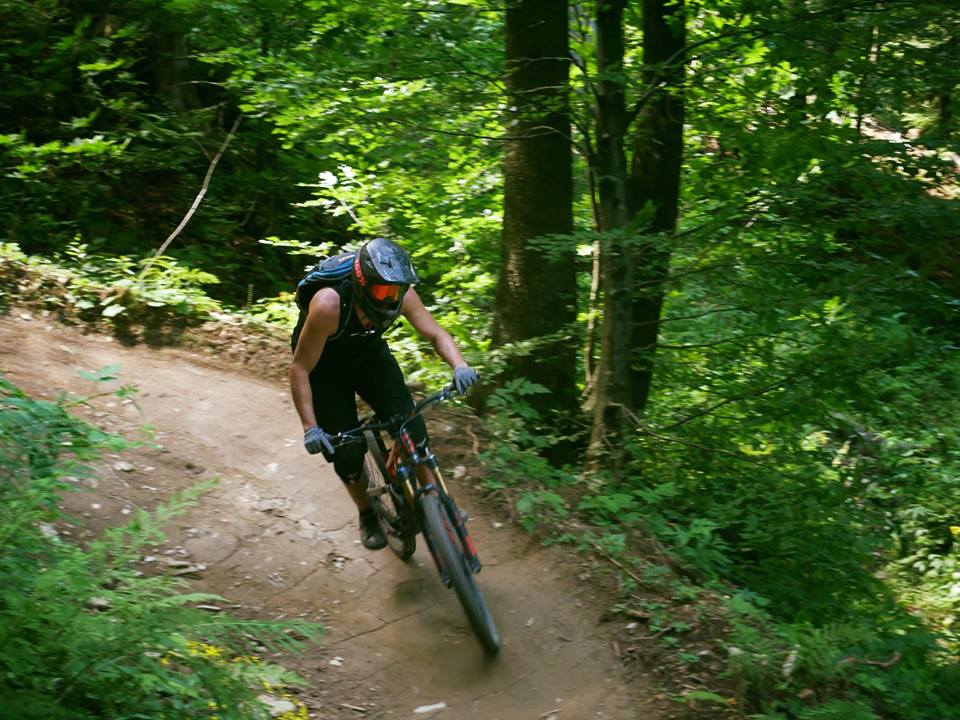 Other lift-accessed bike parks in Slovenia
Kope Bike Park
Another small ski resort in Slovenia, on the mountain range Pohorje, is Kope. Kope has a relatively new bike park, assisted with a chairlift. A 1,6 km Flow Line offers several objects like drop up, step up, and super flow. You can get to the top of the trail with Pungart chairlift.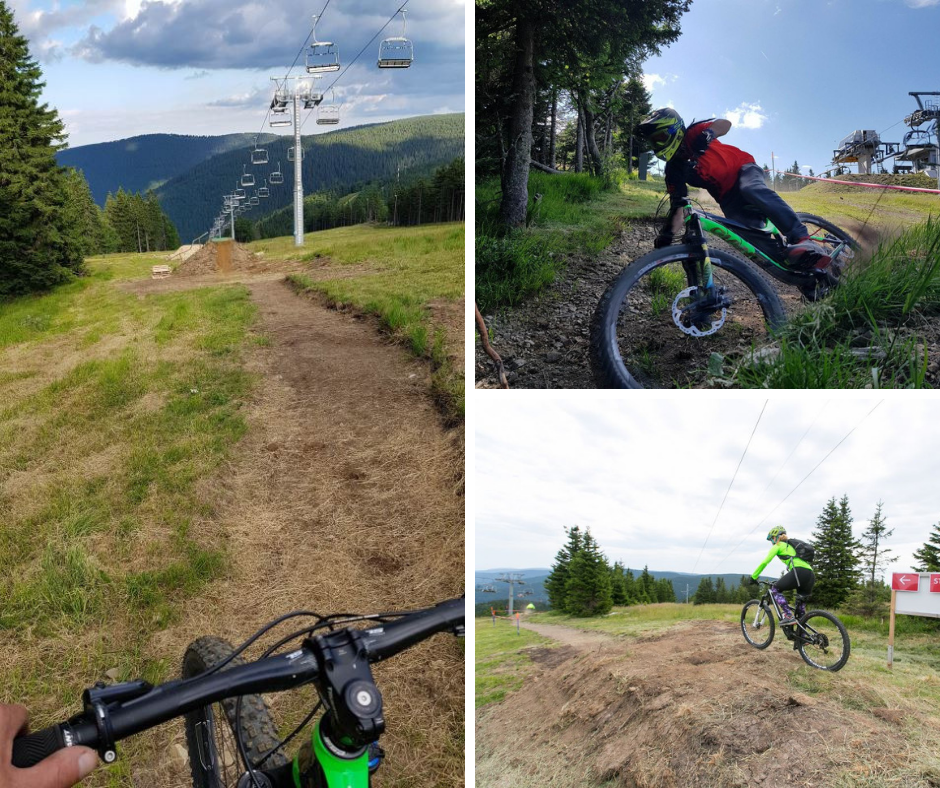 If you are staying somewhere close to Pohorje, it makes sense to visit it for a day. The best destination we can recommend as a base to visit Kope, Mariborsko Pohorje, and Rogla in the consecutive days, is Ruše – a small town near Maribor with plenty of bike infrastructure (pump track, dirt jump park, halfpipe) and offerings for XC and Enduro bikers alike. You can have top mountain biking holidays here for a few days straight, each day on different trails, at an ultimate bargain price compared to many well-known destinations. If you are looking for the ultimate place to stay in Ruše, and some local advice, drop us a line and we can help you!
Kanin is a true high alpine ski center, that also boasts a bike park in the last years. It has gone through restructuring after the ski center's collapse a few years ago, so everything there is quite fresh – but it offers unmatched high-alpine experience. You really find yourself among the Alpine peaks if you go there, and there is no lack of rock gardens to get from the top back to the bottom.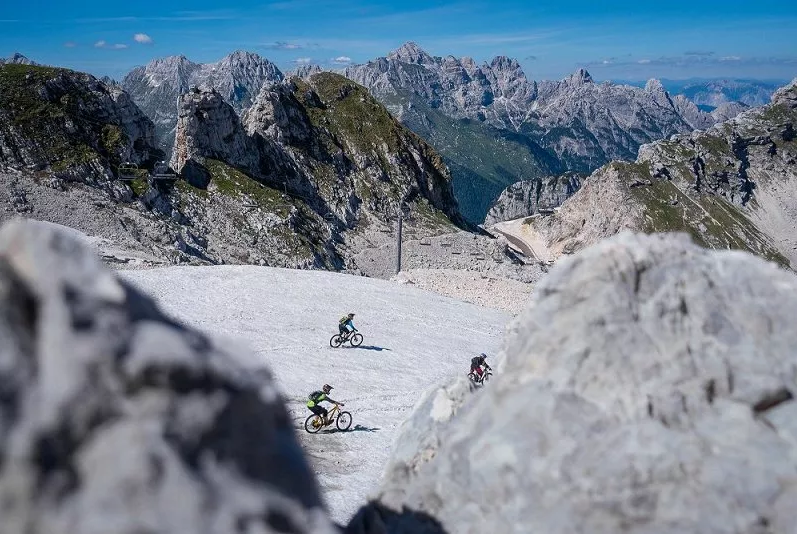 That's it, hope I gave you some idea on your next mountain biking holiday destination. 🙂 Especially if you are most interested in downhill and therefore looking for lift-accessed bike parks.
Have you ever visited any of the lift-accessed bike parks in Slovenia? Let us know in the comments below. 
Pin for later!
Author:
Matic
Matic is tech startup guy who loves to spend time outside. In his free time he is an true outdoor freak – he tends to surf, run and ride a mountain bike, and in the winter time just loves powder skiing and snowboarding. Matic also loves to travel, often has to because of work, and even more often because he wants to 🙂
If you like, please share and spread the love :)