Slovenia has plenty of tracks for mountain biking throughout the whole country. We won't be making things promotional, however, but will write one important fact straight: a large part of the trails that we Slovenes ride on, is actually not entirely legal: many trails are pathways for walking on which the use of a mountain bike is currently forbidden, according to the actual laws right here.
However, despite that fact, there is still a huge number of trails which are official mountain biking trails, as well as many bike parks around the country, that we will try to present here in a few interesting groups.
Best MTB All-mountain and Enduro MTB destinations in Slovenia
For those looking for nice soft climbs, followed by the pure joy on the downhills, there are several hot-spots with legalized and signposted trails that we can definitely recommend. All of those spots have some lift-assisted bike parks in proximity, meaning that you can easily take 2-3 days for a combination of uphills, and downhills squared. 🙂
From east to the west, here they go:
Štajerska region
Probably most known area for mountain biking in Pohorje area is Mariborsko Pohorje, but that represents just a part of Pohorje mountain range.
The whole Pohorje area is a medium-height mountain range with a number of ski resorts, woods, soft hills which look like they were just made for mountain biking – and endless lush green woods, gravel tracks, and all kinds of mtb trails. There are bike parks on several ski resorts on Pohorje, at
And between those bike parks, there are signposted bike routes – unfortunately on not on the trails but on the unpaved roads – that you can use to transfer between those bike parks. Classic hot-spots include Mariborsko Pohorje which boasts a really solid bike park with multiple difficulties of trails, a gondola access and a number of really amazing unofficial trails (roughly 800 m of height difference), as well as an emerging area for mountain bike riders in the village of Ruše.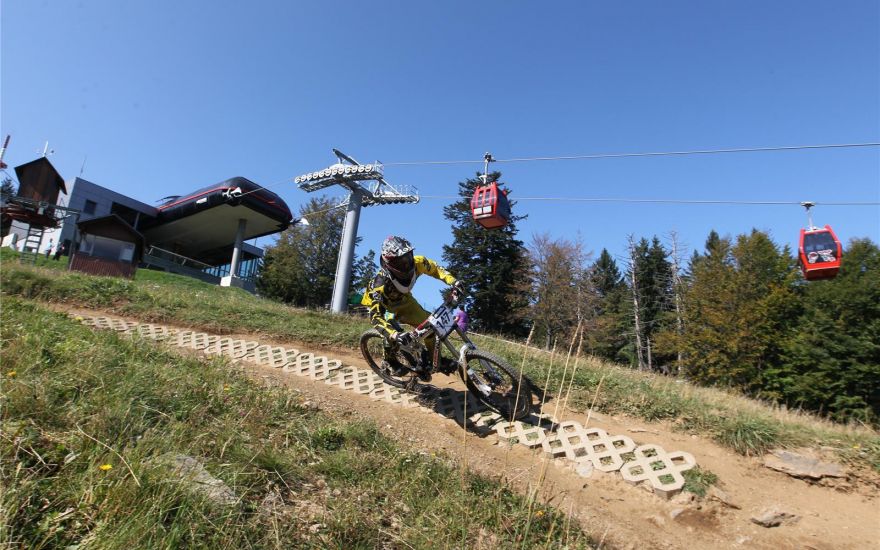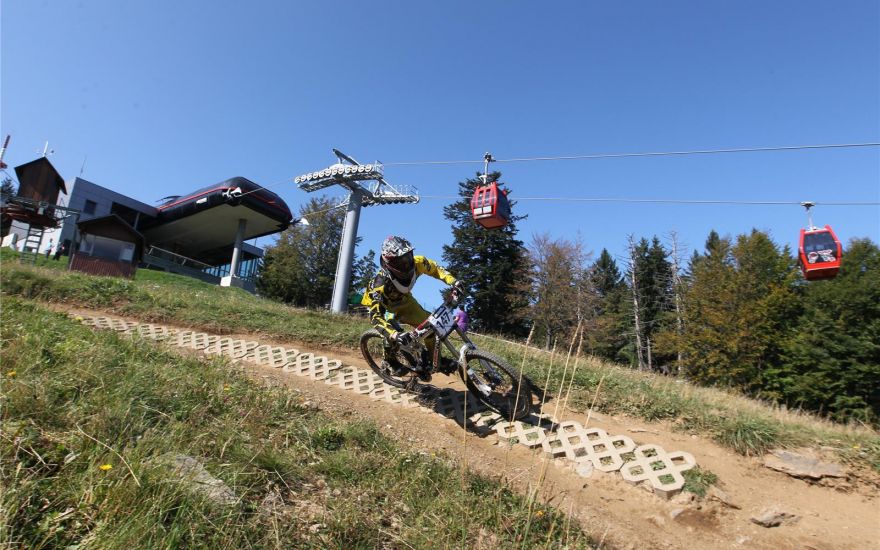 The Ruše village has a SloEnduro race track, dirt jump park, pump track, bike shuttle for a bit more than 2 EUR on weekends (in 2018), free bus for bikers between Maribor and Ruše, and many signposted trails – a little unknown mountain bikers paradise. What you can do is take a few days to explore Pohorje, combine uphills and transfers with bike-parks.
Koroška region
Koroška region offer Jamnica trail park – a trail park, maintained by the founders of Slovenia's first mountain bike hotel, eko hotel Koroš. The numerous signposted trails, which also host SloEnduro races, are accessed by a nice gravel road with an easy uphill. What you get are the trails of different difficulties in the middle of the picturesque woods and grassy hills close to the border with Austria. A definite must-visit in our opinion.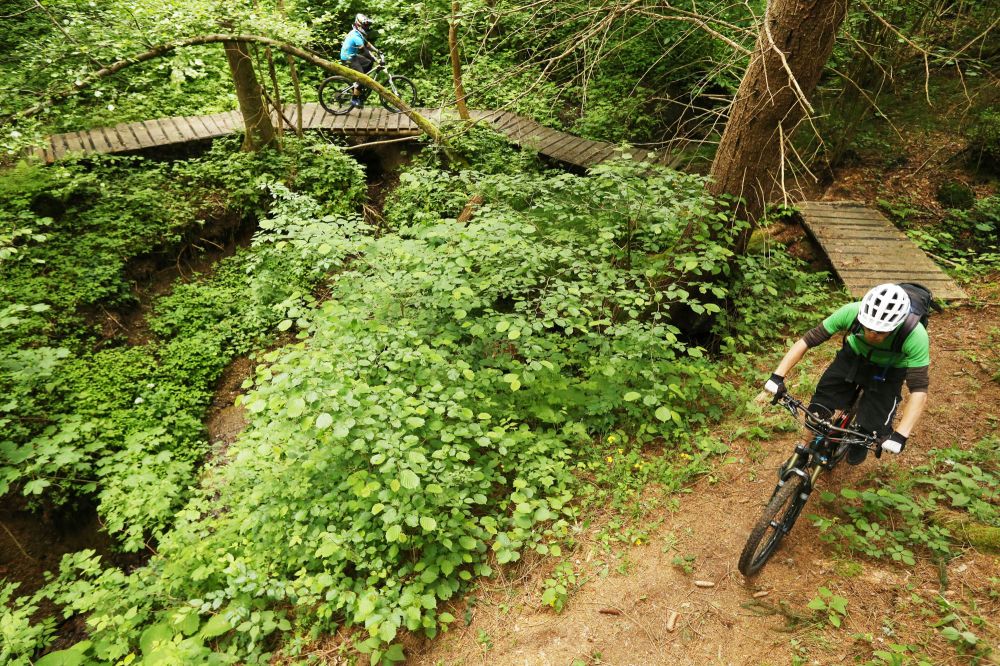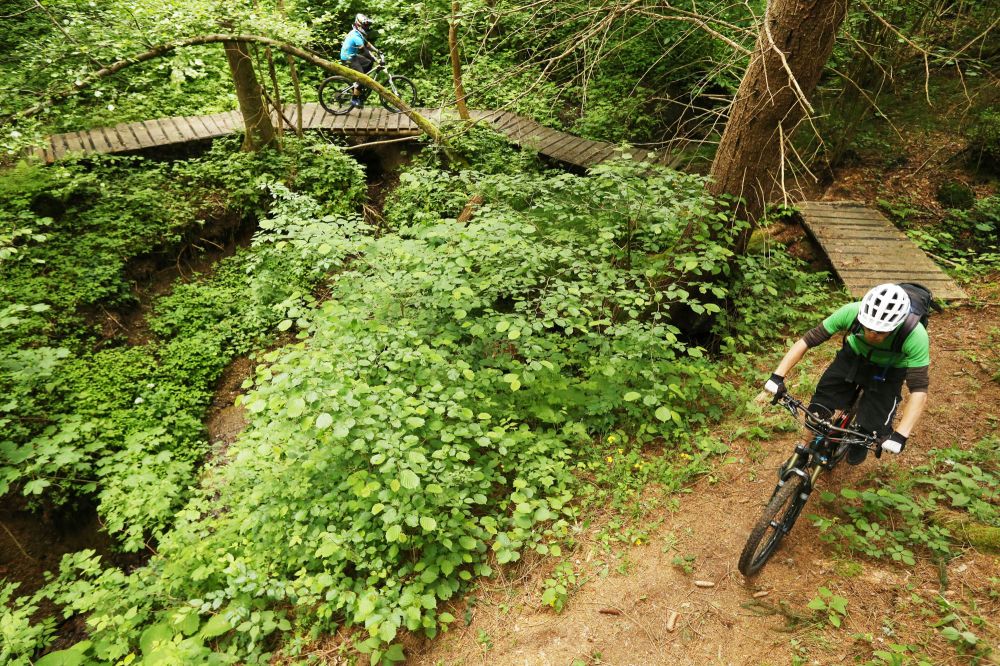 Local tip: combine the visit with Petzen Flow Trail, a lift-accessed longest flow trail in Europe. Take one day for Petzen, one day for Jamnica, and visit the lake "Klopeiner See" in Austria, about 30 minutes from Petzen, after the first day of riding. Swimming in a crystal clear lake after a day of riding can make the best possible bike adventure you can imagine – all in 2 days if you want to be frugal with time. But if you want to stay more days at each of the locations, we're sure you will not run out of trails and fun.
Gorenjska region
The mountainous, Alpine region of Slovenia, called Gorenjska, offers a real alpine paradise. Crystal clear lakes you may swim in, rivers with a water so clear you can drink it, and mountains with amazing hiking trails also offer a lot for a mountain biker. There is a little town of Tržič that did a big step on legalizing bike trails around the town  – and there are a few bike parks in the area as well, most notably the Kranjska Gora bike park.
Krvavec, a popular ski resort in Slovenia also boasts a great bike park that also offers some Enduro style trails. If you are traveling from east to west, here you can see that from Pohorje, towards Jamnica and Petzen, you are arriving more and more in the higher mountains. Krvavec will already give you a taste of the real Alps in Slovenia and offer you some trails of all difficulties you can imagine.


Towards the sea
If you plan to go from Gorenjska towards the seaside of Slovenia, where you can visit beautiful ancient towns like Piran, Izola and the likes, you may want to pass through a beautiful Soča valley – a valley with river Soča, and town Bovec that offers a lot of mtb trails which is also a very popular mtb hot-spot in the region. From Bovec, you may even take a cable car ride up to Kanin, and from there, venture to high-alpine mtb adventures on your own.
Moving further towards the sea, it is worth stopping in a Bike Park Javornik, through which passes also the Slovene MTB Traversal (Slovenska Turno Kolesarska Pot).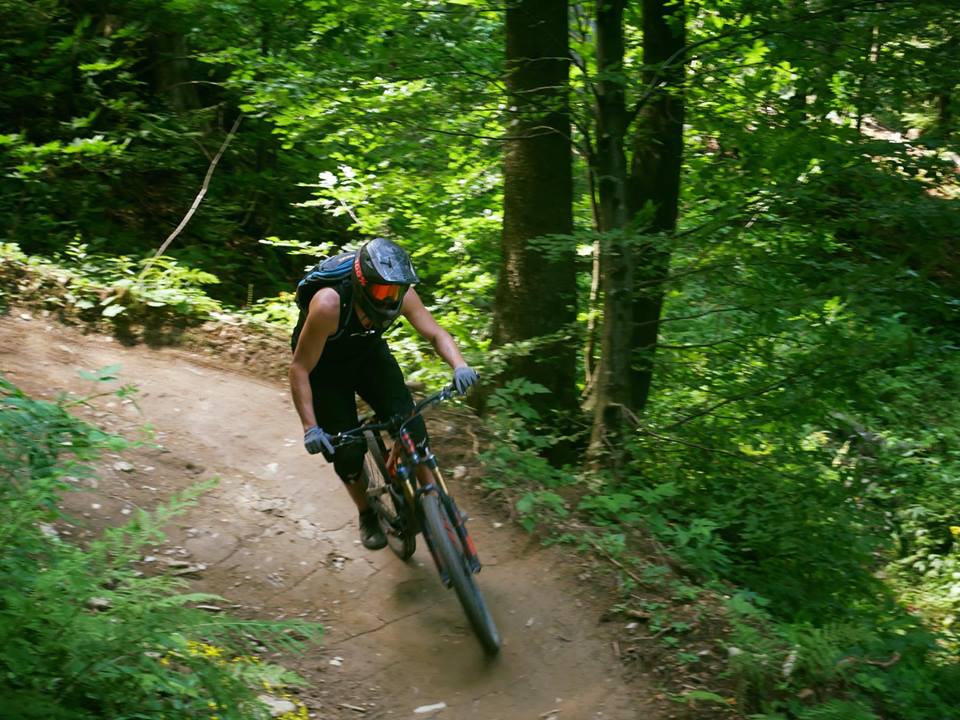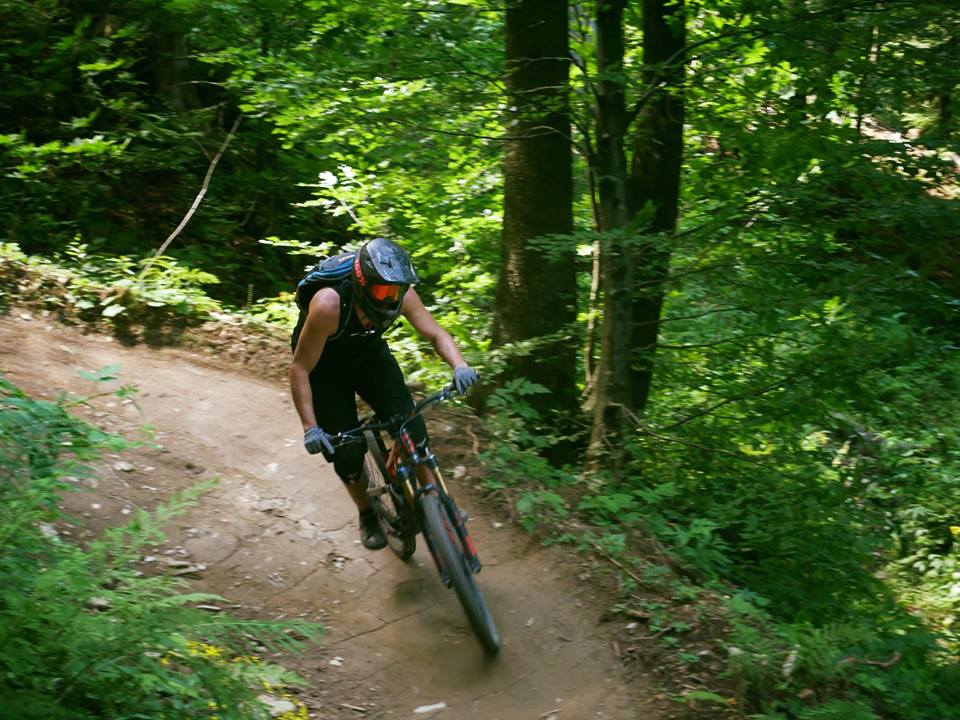 This is what we can recommend for an enduro mountain biker in Slovenia from our own experience. There is a ton of trails, so drop us a line and we can even help you plan your trip a bit, or find you a guide who may pinpoint the best trails for you in a certain location. All in all, Slovenia has all of the natural and logistic prerequisites for a perfect mountain biking destination, and you may really fill your days and even weeks with riding the trails.
Interest to spend mountain biking holidays in Slovenia? Drop us a line if you need help, we'll be happy to help you!
Pin for later…
Author:
Matic
Matic is tech startup guy who loves to spend time outside. In his free time he is an true outdoor freak – he tends to surf, run and ride a mountain bike, and in the winter time just loves powder skiing and snowboarding. Matic also loves to travel, often has to because of work, and even more often because he wants to 🙂
If you like, please share and spread the love :)