First, a full disclaimer: I am not a vegan, but I traveled with a vegan Urška – so we ate in vegan restaurants. We did, however, pretty much agree on all of the aspects described in this article. 🙂
Despite the fact that most of the traditional Peruvian dishes contain meat and that Peruvians are quite "heavy" meat-eaters you can find vegan food almost everywhere in Peru. Sometimes you have to look a bit for it, but it can be found. Although Urška found some information online (before traveling to Peru) on how they offer vegans meat dishes or that meat remains can be found in vegan dishes because they cook it in the same pot, well there was no trace of it. We were able to find some really delicious vegan dishes and restaurants around Peru, especially Cusco is a paradise for all culinary enthusiasts. Below are our personly experiences on each and every vegan dishes and restaurnats we have tried in Cusco, Peru.
El Encuentro
A vegetarian restaurant in which we tried everything from breakfast, lunch, to la carte meals. Our favorite is the lunch time and "menu del die" because of a good price (10 soles per person) of a meal which really makes you full. The menu of the day includes daily soup, the main menu (2 options available daily), salad and one soft drink. Also, a la carte meals were delicious and well priced. The breakfast is solid, but among breakfasts, Green Point won. You can find the restaurant close to Plaza de Armas: Tigre 130, Cusco, Peru. *Urška note: this is a vegetarian restaurant but they also offer a vegan option, so when you order a meal make sure it's 100% vegan. Ask the bartender they are very nice and helpful, if you speak Spanish that helps. 😉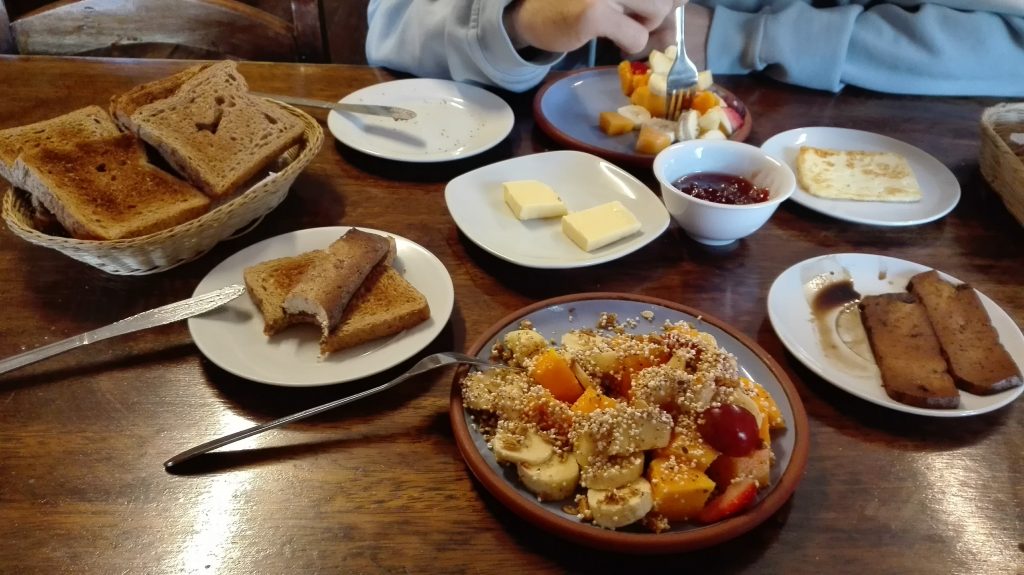 The Green Patio
With a nice patio, this restaurant offers a bit more expensive but delicious food. We tried out breakfast, lunch and a burger, and were very satisfied with breakfast and burger. However, we found even a better burger place, so the recommendation we can give is: use The Green Patio for the breakfasts, they are the best, and the patio is really nice place to begin a day on. To be honest, we were a little disappointed with "Menu del dia" it was rather expensive and after the meal, I was still a bit hungry, but at least the food was very very good. You can find it on Plaza San Francisco, in the historic city center: Plaza San Francisco 310, Cusco, Peru.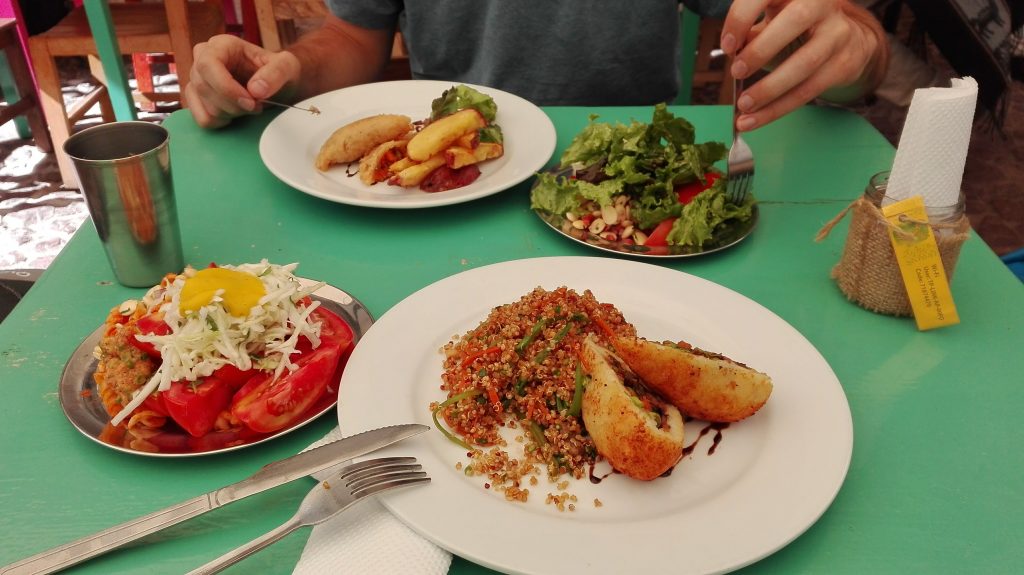 Salud De Luz
Supposed to be a very small restaurant with just 2 tables, but it's not (at least not anymore). Being a part of the hostel, the food in this restaurant is prepared by an American lady and is really delicious. It was our favorite pure vegan lunch there. The price is good, the food is really delicious and quality made, and the service is good. There is also a patio of the hostel where you can eat, so it's a definitive must for a lunch. Amazing soup and great main dish – they offer 3-course lunch menu wich include soup (2 daily options), main dish (2 daily options), deserts (3 options) and a drink. They also serve super salad as a cold raw vegan option for the main dish. I also liked the small desert a lot with Inca berry cream. It is situated a bit further from Plaza de Armas, but still in the center on Calle Nueva Alta 458, Cusco, Peru.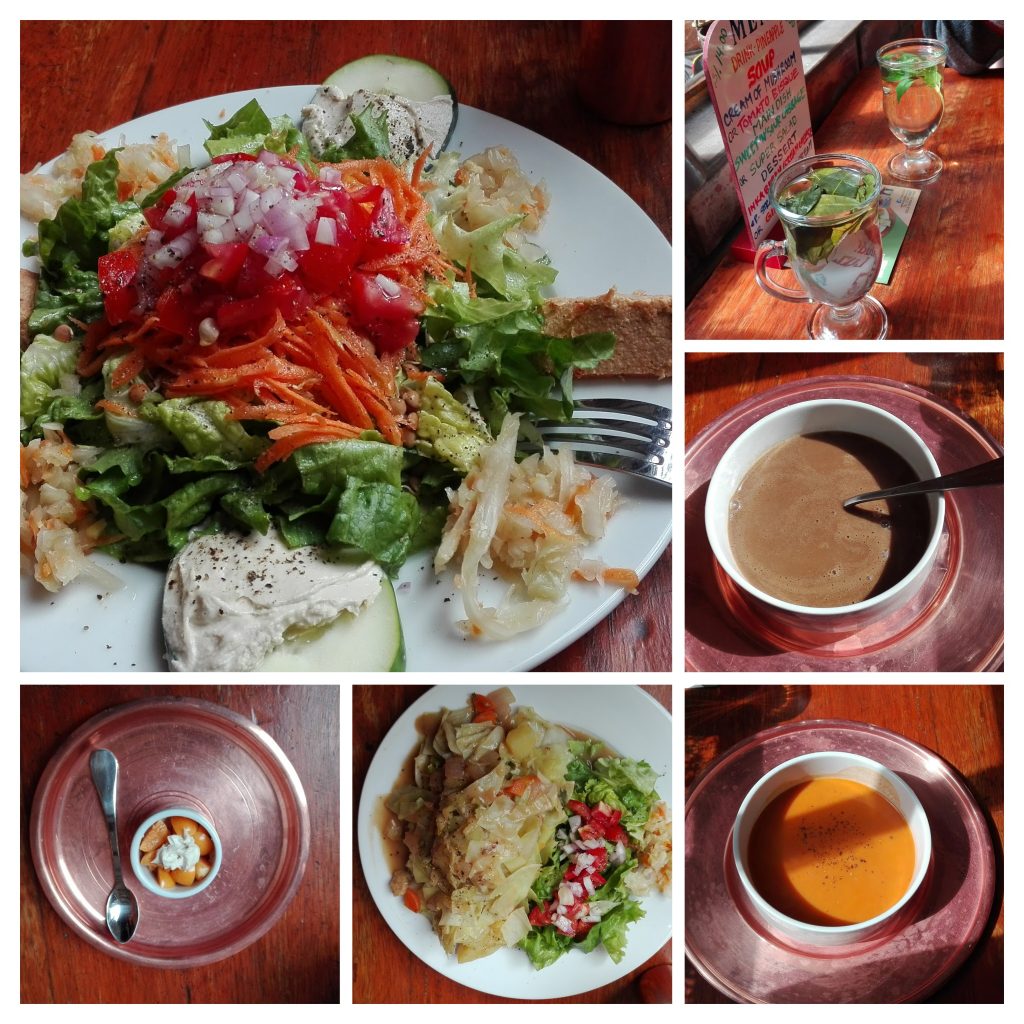 Shaman Vegan Raw Restaurant
Probably the most spiritual place. Close to El Encuentro. The food was good, the portion was not huge, the quality was really high, and the price was a bit higher as well. I believe it was the most expensive place among vegan restaurants in Cusco, however, they offer very varied menu wich includes a lot of raw options. The place has – as the name suggests – a bit more spiritual vibe. For us, it was maybe a bit too spiritual. However, all was correct and everyone was very kind. Address: Santa Catalina Ancha 366 B, Cusco, Peru.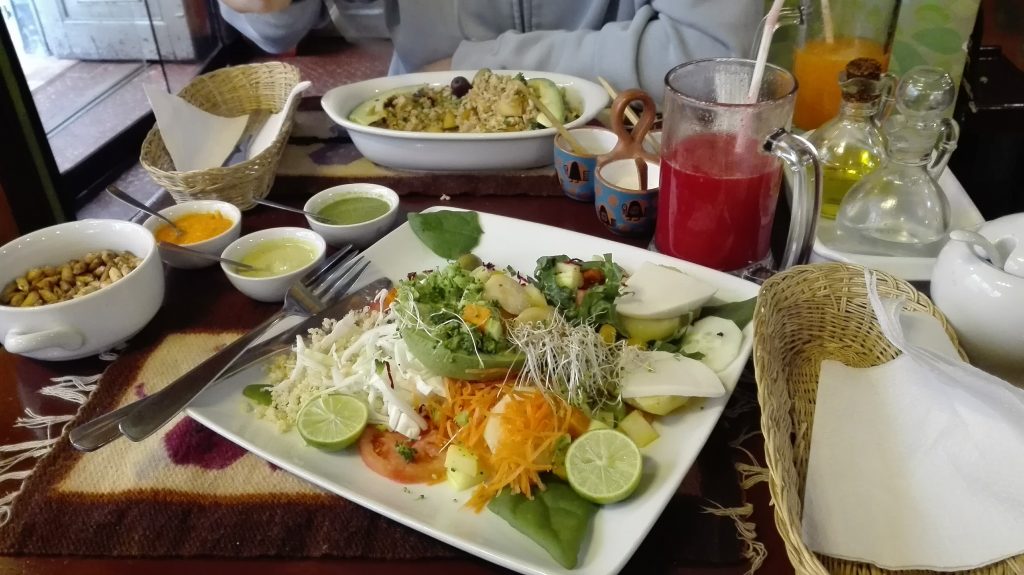 The Vegan Temple by Prasada
A place where we ate burgers and sandwiches – and enjoyed it big time. This one is a definitive winner for this kind of food. They are not regular burgers or vegan substitutes, but a whole new culinary dimension of a burger. Different but likable.
The place itself is very small, you sit almost on the floor (Turkish style) and looks like the owner sleeps just above the place where the guests eat. Probably if you are a bit older you will have a hard time fitting in the restaurant – a good thing is they offer to-go as well. 🙂 Address: Choquechaka 425, Cusco, Peru.
Loving vegan
It's a part of Loving hut vegan restaurant chain although it's not really a typical Loving hut restaurant. Everyone seemed to be a bit dreamy, but the things they produced tasted great. Good food, good price, fair offer. We only ate once there and we can not say from our limited experience they are a winner in any particular category, but it's definitely a not-to-be-missed restaurant when you are in Cusco if being a vegan. The location is also pretty central: Av. Tullumayu 546 – A, Cusco, Peru.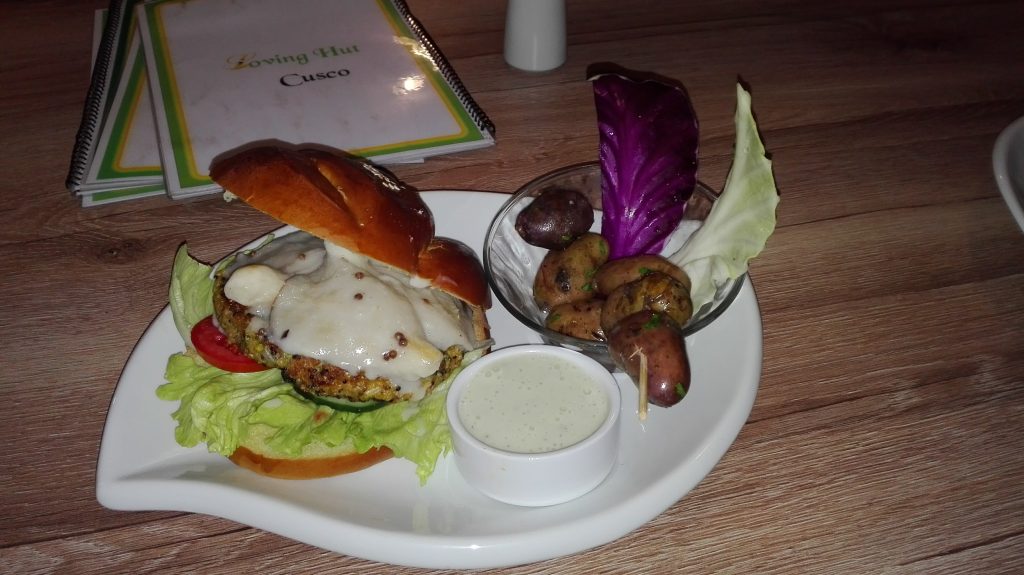 What are your experiences with (vegan) food in Cusco, Peru? Let us know in a comment below.
Pin for later…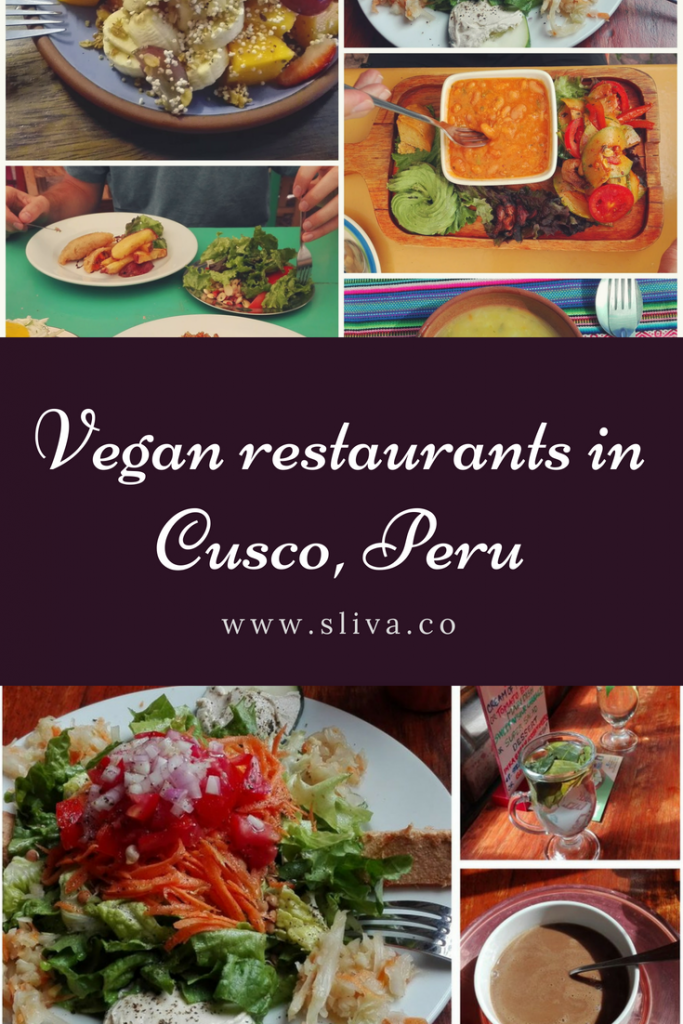 Author:
Matic
Matic is tech startup guy who loves to spend time outside. In his free time he is an true outdoor freak – he tends to surf, run and ride a mountain bike, and in the winter time just loves powder skiing and snowboarding. Matic also loves to travel, often has to because of work, and even more often because he wants to 🙂
If you like, please share and spread the love :)