Besides the more difficult hikes that also include skiing or snowboarding on the descent, the country of Slovenia offers also a number of beautiful winter treks that are perfectly safe avalanche-wise, and viable for the whole family and for those less experienced in visiting the mountains in the winter.
Hiking trails on Pohorje, Slovenia
In this article, we will focus mainly on the easier hikes in the area of Pohorje. Pohorje is a mountain range that on the east starts above Slovenia's 2nd largest city, Maribor, and on the west reaches another city in Carinthia (Koroška) region, Dravograd. It's height (roughly between 1100 and 1500 m), the density of villages, ski centers, and tracks, as well as it's geographic structure, make for a perfect winter hiking ground.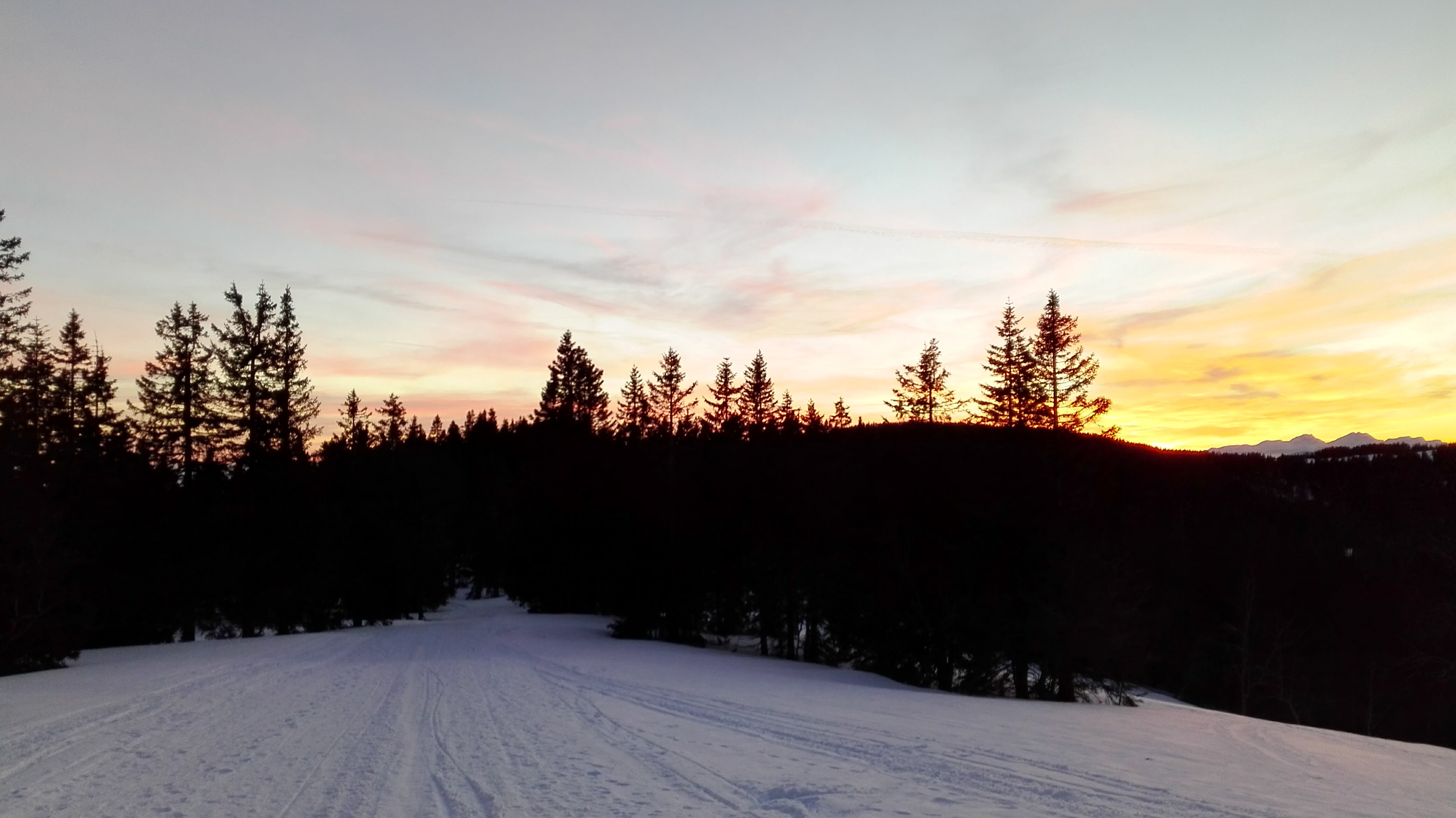 There are marked hiking trails on Pohorje from east to west altogether, but in the winter, long treks can take 3x or 4x more time, making it really difficult to do the treks during the available sunlight time. But do not fear: there are many shorter treks which can take between 2 and 4 hours, that you can do in a day – and grab some food in the nearby ski center. Some of those treks go along the cross-country skiing tracks, which are perfect for cross-country skiers seeking to stay away from the crowds.
Here are some of our picks:
Maribor-Pohorje to Areh hike
A nice trail, which immediately gets groomed, between the top station of the gondola above the city of Maribor, all the way to Areh, the other end of Maribor-Pohorje ski center. You will pass by some of the ski slopes along the way, but you will not cross any, if you go on that trek. It takes about 1 to 1.5 hours to get from one end to another, and you can catch a bus on the way back. This is a perfect option if you are in Maribor, want to get some snow adventure, but don't want to get stuck in the crowd of a ski center.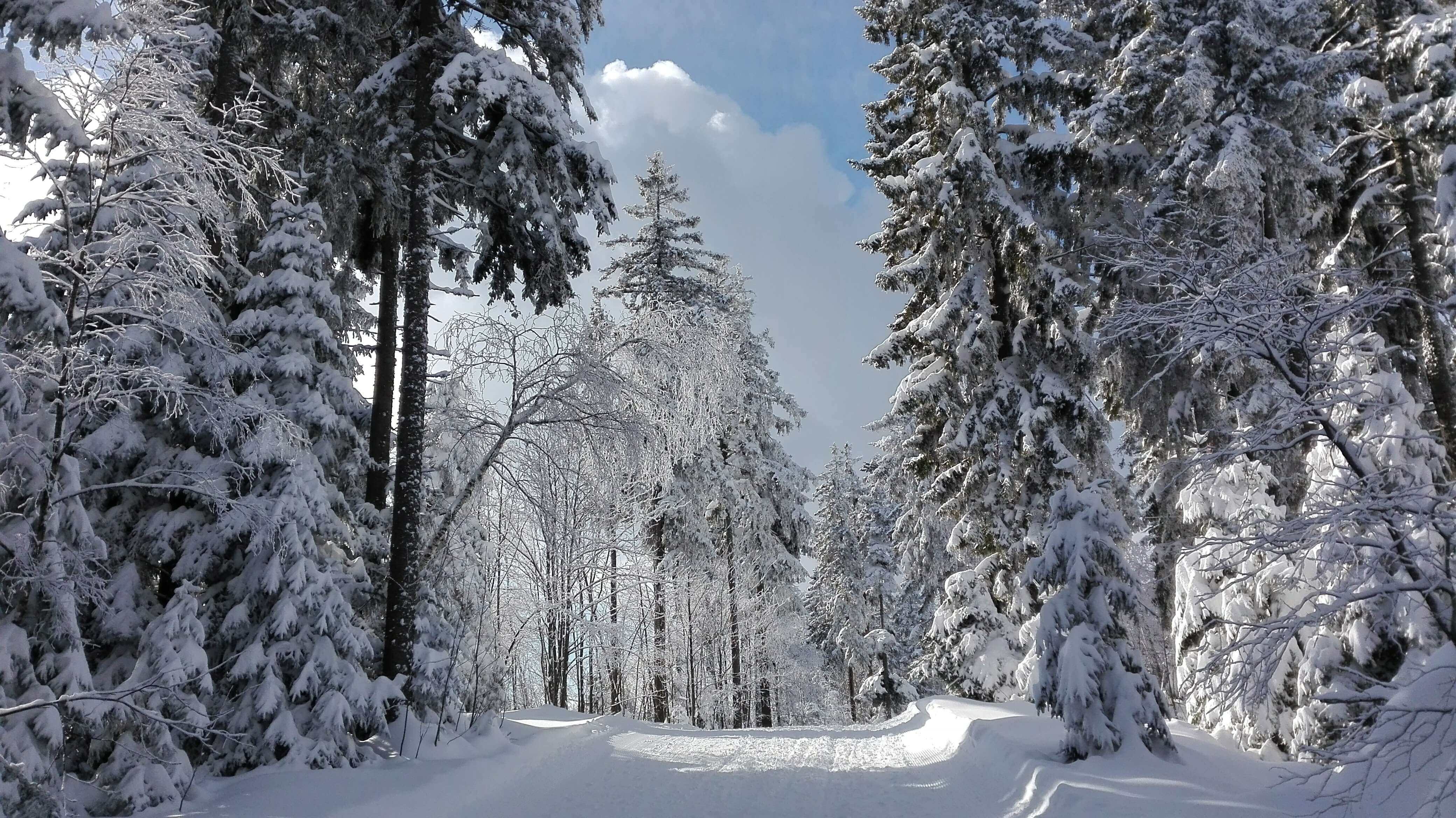 Kope to Ribniška Koča hike
If you find yourself wandering around Dravograd area, you may drive up to Kope for a day of skiing – or even just for a snow hike. There is a groomed path between Kope, and the mountain hut, Ribniška koča. On the trail, you may even go on one of the Pohorje peaks, and sections of the trail offer amazing views of the landscape of Slovenia on a sunny day. The hike may take you about 1.5 hours in each direction in the winter, and it's perfect if you have some snowshoes with you. But do not worry, it's also fine to walk without the snowshoes, especially if you are not there straight after the snowfall.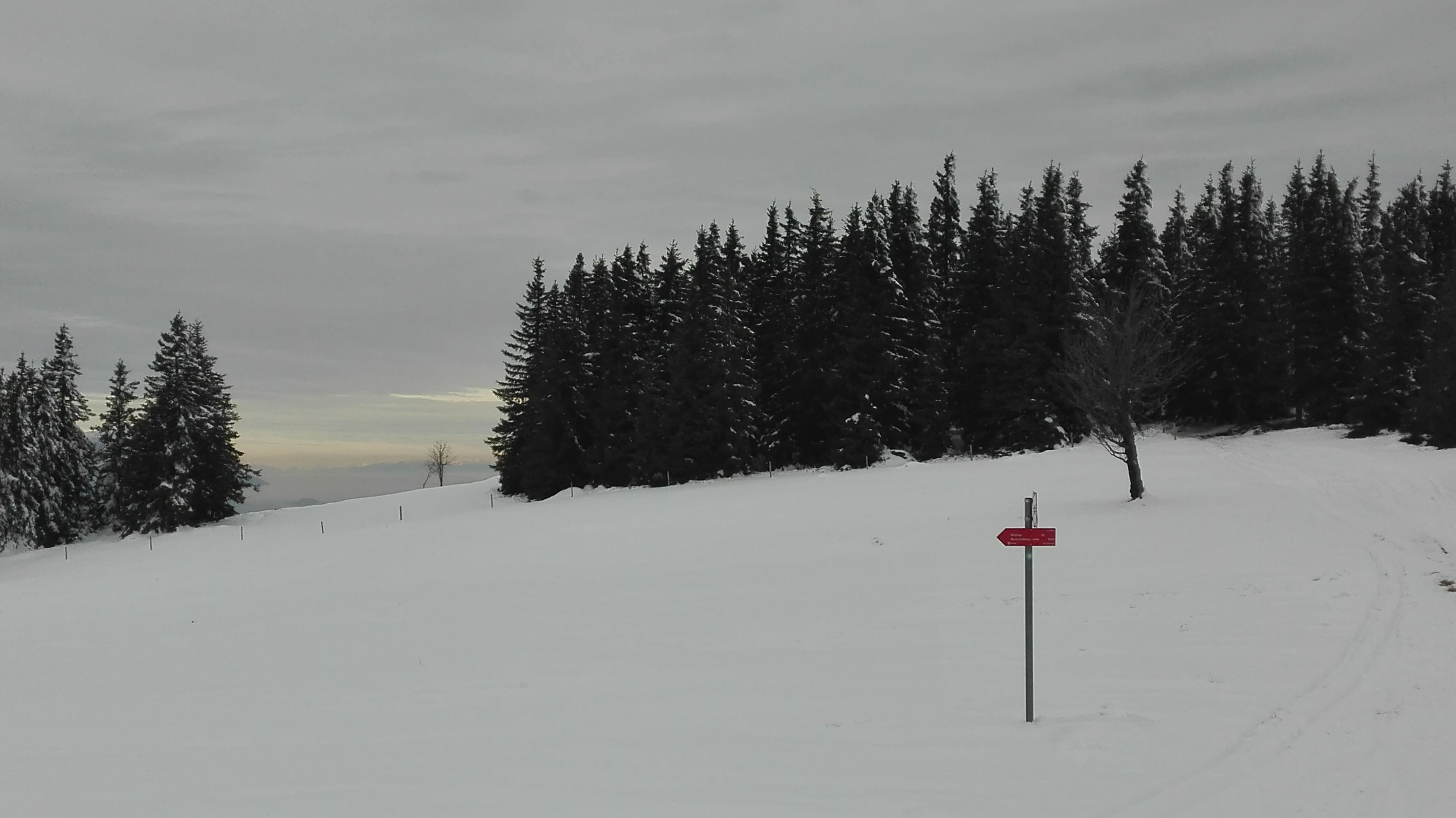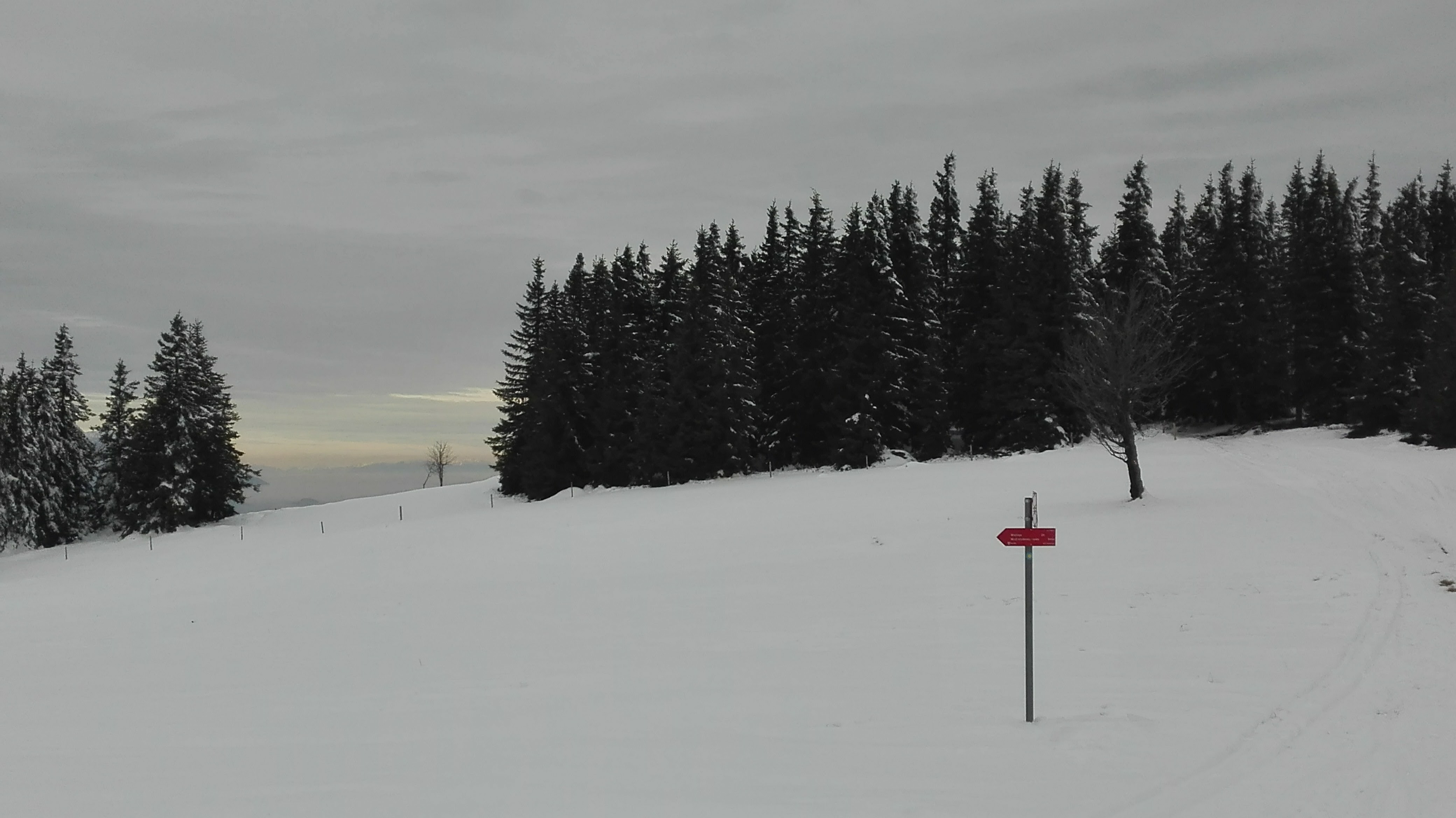 Trije Kralji to Črno jezero hike
Črno jezero or "Black Lake" is a lake, just about an hour of winter walk (in the snow) away of the ski resort Trije Kralji (which would be translated as "Three Kings" literally). You can access the ski center of Trije Kralji with a car and then proceed by walking all the way to Črno jezero and back. A nice walk in the woods, with the finish by the lake, does unfortunately not offer spectacular views, but it does offer a very good recreation, and getting to Črno jezero at the right, nice day, the experience is very beautiful.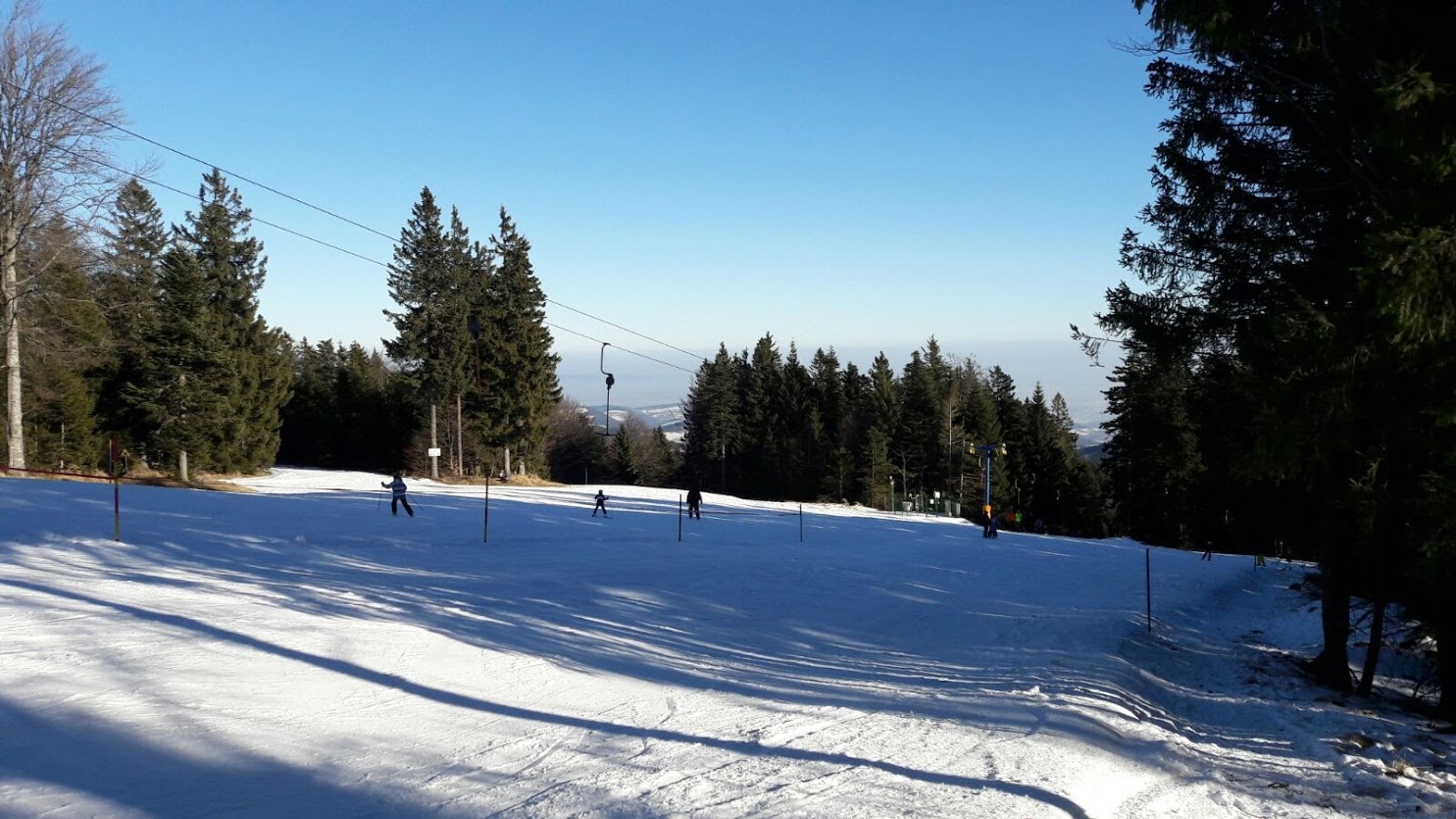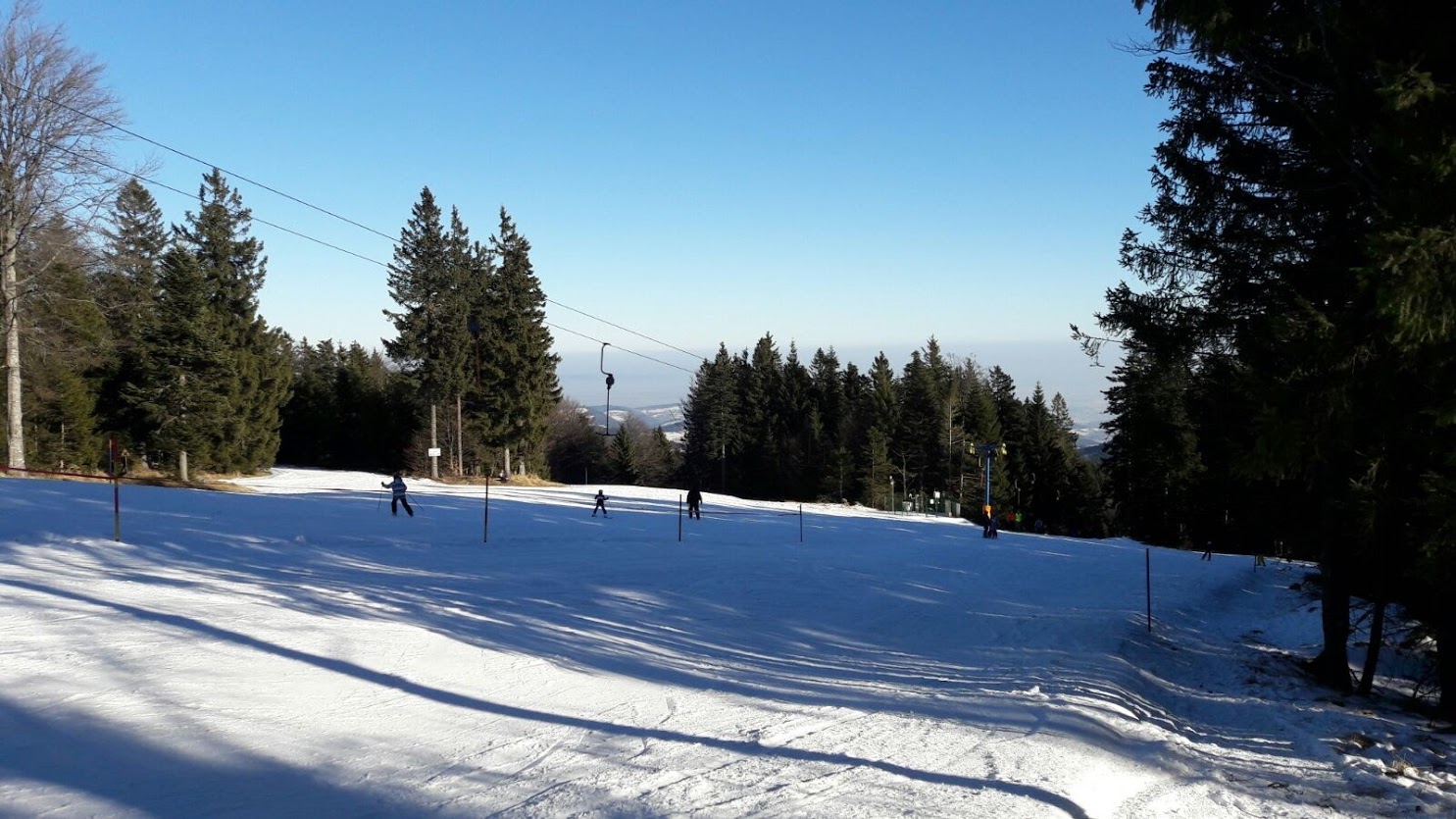 Rogla to Lovrenška jezera hike
Similarly like in the case of Trije Kralji to Črno jezero, there is a nice track to walk between the ski center of Rogla and the area of Lovrenška jezera. Besides this walk, there are several other options to walk at Rogla as well, but since there is also a ski center, expect a lot of crowds on the days with snow, at your start. You may have to compete for the parking slot. 🙂 But no worries, skiers want to park as close to the lifts as possible, which may not be necessary for you.
Want to experience all of those hikes in the consecutive days? We can suggest you to stay in the area of Ruše, which is a perfect starting point for all of those hikes and walks, in any season. From there, you can access the starting points of those hikes in a matter of an hour or so, and have plenty of good time and joy doing it.
Have you ever done a winter hike on Pohorje or anywhere else? Let us know in the comments below.
Pin for later!
Author:
Matic
Matic is tech startup guy who loves to spend time outside. In his free time he is an true outdoor freak – he tends to surf, run and ride a mountain bike, and in the winter time just loves powder skiing and snowboarding. Matic also loves to travel, often has to because of work, and even more often because he wants to 🙂
If you like, please share and spread the love :)