By now you probably know that I travel a lot and because of the nature of my work I have to "open up" my laptop even when I am on holidays. So, over the years I learned few things what a laptop for travel needs to have. Even more, I found a device which works as both – a tablet and a laptop – and that I carry with me on some of the trips where not so much computing power is needed (and all of the weekends).

What I can tell from my experience is that you want your travel laptop to be:
fast enough for all your needs
slim and light
with a good battery capacity
as cheap as possible
Why? Well, based on my experience, you want to carry the minimum (in terms of performance, size and price) that will be necessary for you to do the job well and without the headaches.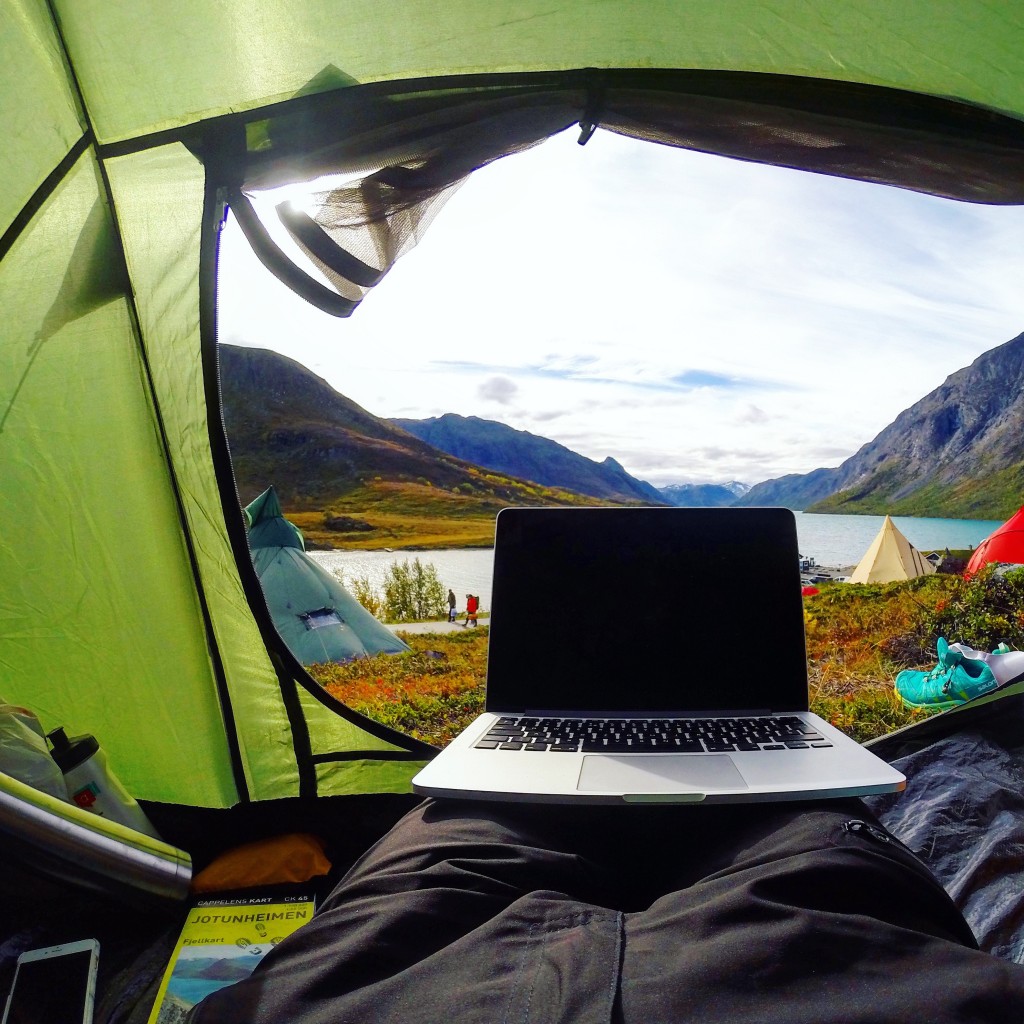 Performance
Regarding the performance, things differ based on what you do. For simple online activities and document writing, almost any computer with i3 or equivalent will do the job. If you do more advanced stuff, look for a more powerful CPU. Whatever your preferences are, don't save at RAM memory, and for the hard disk make sure you're buying an SSD – it's way faster and if you use it while bouncing, it won't hurt it.
Design
Slim and light design is a must. You will be carrying it everywhere so you want it to take as little space as possible. Besides the well known, well designed laptops by Apple, there are many other on the market under the common name 'ultrabook'. Search for ultrabooks and you will find thin, light laptops. You may even find some models which work like a tablet and laptop at the same time, therefore a laptop with a detachable screen which is completely autonomous. Have a look below for one of those.
Battery
Especially if you are camping around different places, you will have a hard time charging your laptop or tablet, so buy such with a good battery capacity. In the better campings, you may buy elecricity outlet, but in some public/free/cheap ones, you don't. Also when you are stuck somewhere, like on the airport, and know that there is a bunch of e-mail messages stuck on your mail client, you can take your time to answer them all, and do other things, without searching for the power outlet.
Price
I intentionally added low price to all of the attributes, but if you really stay out there on the trail when moving during the night, sleep on your bag on the airport, and stick it in the luggage compartment of a budget airliner like Rynair, sooner or later you will scratch it, make a ding somewhere, and so on, and believe me, it just doesn't feel nice to have that on a computer you just paid a fortune for.
Suggestions on best tablet and laptop for travel?
Well, I use 2, because of the specific needs:
(1) While going out to camp, sail, or hike, but I still need to be productive for a few hours of the day, usually an Asus Transformer
does the job well. I definitely recommend you to take the one with the most storage space you may get. If you don't have such needs for computing power, a good choice may be HP ENVY 13″ – it may be your ultimate ultrabook, travel laptop and tablet at the same time. 🙂
(2) When in the office, or on a business trip, I usually need a a considerable amount of computing power to do my tasks (which include software development, video editing, and stuff like that). For that, I use a mid-range ultrabook from HP.
What do you usually take with you on your travels tablet, computer, or both?
Pin for later!

Disclaimer: This post contains affiliate links. If you click on one and make a purchase, we might make a little extra spending money, at no extra cost to you. All opinions are our own and these products have been found useful during our travels and come highly recommended to you.
Author:
Matic
Matic is tech startup guy who loves to spend time outside. In his free time he is an true outdoor freak – he tends to surf, run and ride a mountain bike, and in the winter time just loves powder skiing and snowboarding. Matic also loves to travel, often has to because of work, and even more often because he wants to 🙂
If you like, please share and spread the love :)