As a part of our trip to New Zealand, we visited the Southern Alps on the South Island of New Zealand. I must admit that we were looking forward to it a lot, as we traveled the flat coastal Australia prior to visiting the South Island, and since we are a bit of hikers and bikers, visiting the mountains was something naturally attractive.
Here is how our route looked like, and what you may want to enjoy along the way, too:
East side of Southern Alps
From Christchurch, we drove to Lake Tekapo. The lake is very beautiful and the town, despite being touristic, is not so extremely touristy. There is one of the world's best observatories of the Southern sky on top of a hill above the town, called Mt John. The observatory was made out of a radar station, used by the Army earlier in the past. Anyway, there is a nice circular trek that takes you from the town through the forest all the way to top, and the views are insane. You can make a full circle and return by the lakeside, but be aware that there is no shade of the trees. The whole trek is very easy and non-technical but will take some time. Next to the start/finish of the track, you can also soak in nice thermal pools.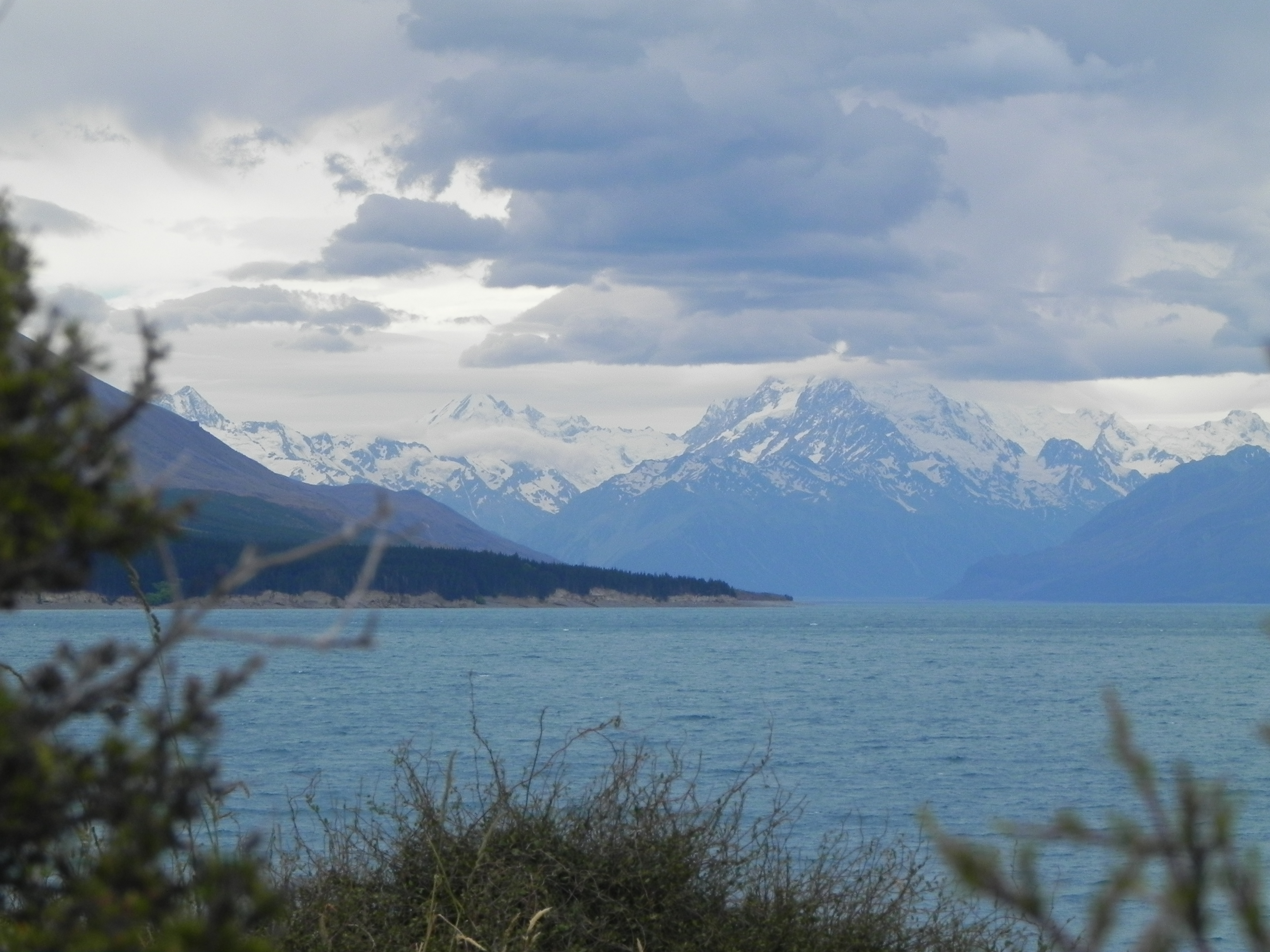 Our next destination was Mount Cook National Park, to which we drove by the Lake Pukaki. Driving by the huge and beautiful lake took some time, and offered amazing views in return. I couldn't help myself but not to sing 'country road'along the way. 🙂
Anyway, in Mount Cook camping, which is DOC operated, there are a few treks to do off various difficulties. You may walk to the glacier through Hooker Valley, which is supposed to be one of New Zealand's most beautiful walks. It's non-technical and heaps of people do it. You arrive to the melting glacier and get a glimpse of Mount Cook, New Zealand's highest mountain. There are some multi-day options with sleeping in a hut as well, but you need proper equipment and know-how. While the camping itself is just as majestic as the mountains. You wake up with a view of the snowy mountains.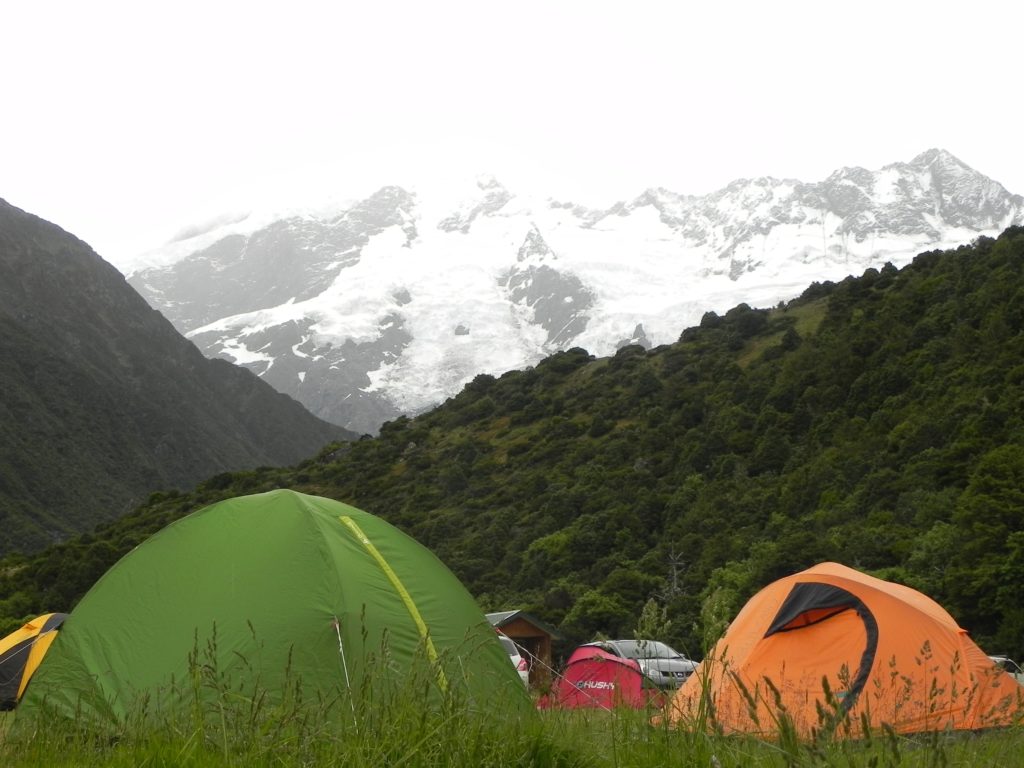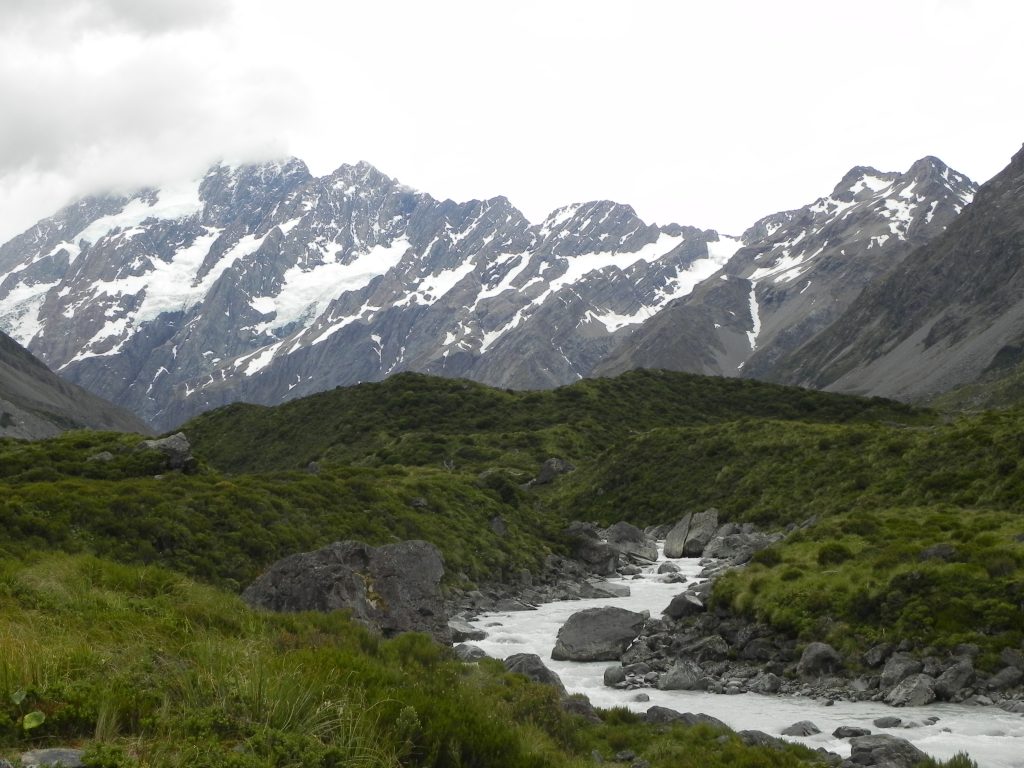 From there, we moved on to Twizel, a town with a touristy beat and many offers of different adventures. Twizel may be a good base to explore Mt Cook area, but we moved onwards to Queenstown.
Queenstown reminds me of a classic resort town in the Alps. It has a lake in which you can swim in the summer, hills with gondola access, ski center in the winter, a lift-accessed as well as a pedal-accessed bike park with a crazy variety of trails, and a bunch of shops where you may get rentals, or buy equipment. From the lake, you may also take a jet boat ride to blast your adrenaline high, if you are that type of a person.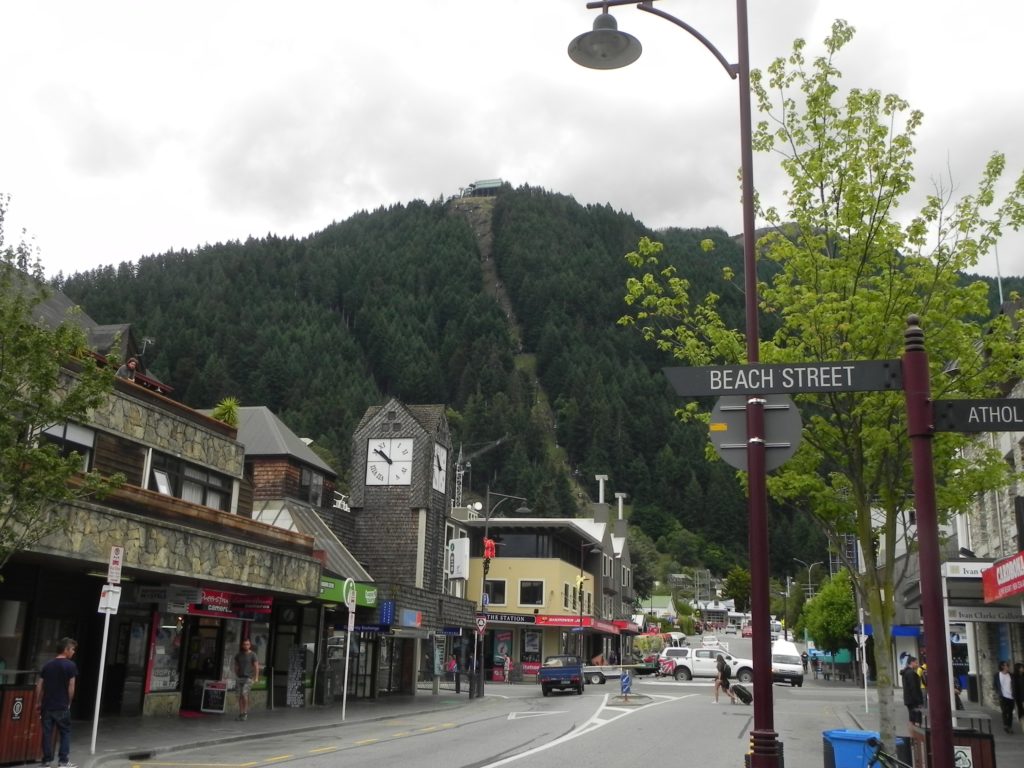 From Queenstown we moved down south and explored the other, west side of the Alps, on our way back.
West side of Southern Alps
On our way back, my personal favorite place in the Alps found it's way to our menu. It's a resort town of Wanaka, which – similarly to Queenstown – has it all: the lake, the hills for hiking, and a bike park. It seemed a bit less packed and busy than Queenstown, and we really enjoyed it – particularly the lake. If you have a wish to rent sea kayaks – doing it here is not a bad option. I really wanted to do it in the Fiordland, but finally got the opportunity for a 3-hour paddle on the Wanaka lake. We initially took 2 hours in the bay, but take 3 hours if you don't want to rush. And it was crazy. We visited the Ruby island, did a small hike there, swam in the lake, and then paddles back. Scenic.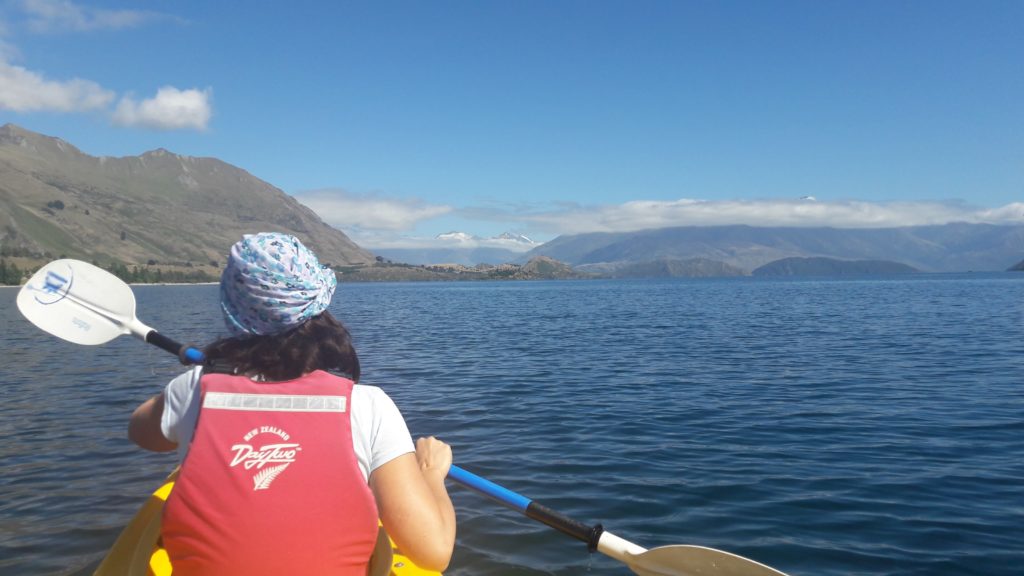 From Wanaka, we headed to the west part of the Alps.
Hint #1: Things like petroleum get expensive as you go to this area, so make sure you fill your car up fully already prior to Wanaka.
In the west side, we planned to take 2 or 3 days for visiting the glaciers, but we quickly found out that the glacier walks are well tracked and made for general tourist visits. Usually, you can get from parking to the glacier, and even back, in maximum an hour – so we did Fox Glacier, Franz Josef Glacier, and Lake Matheson walk, all in one day.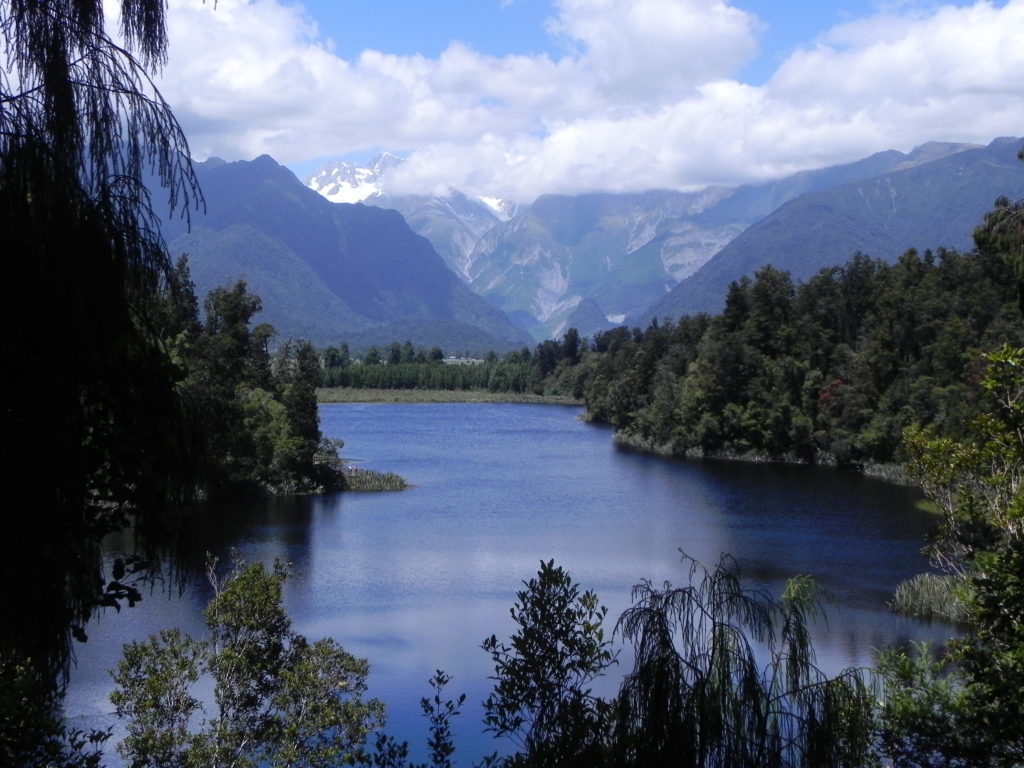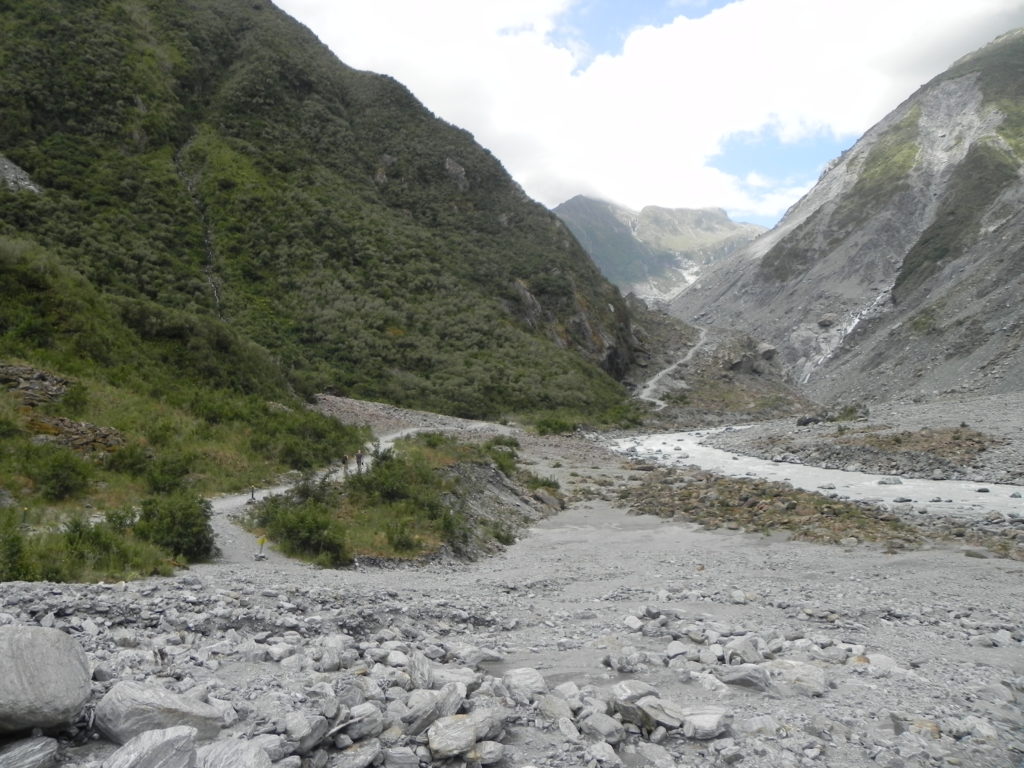 Since we camped in a tent, we found out that Franz Joszef is not a perfect town for pitching our tent as the ground was full of stones everywhere. So we did a bit of driving up north, just to discover one of The Most Amazing Campgrounds. Ever. 🙂 a small camping where we pitched our tent just above the lake, managed by the DOC: Otto/MacDonald's campsite. No shower is needed as you can simply swim prior to going to sleep. Beautiful soft grass under our tent.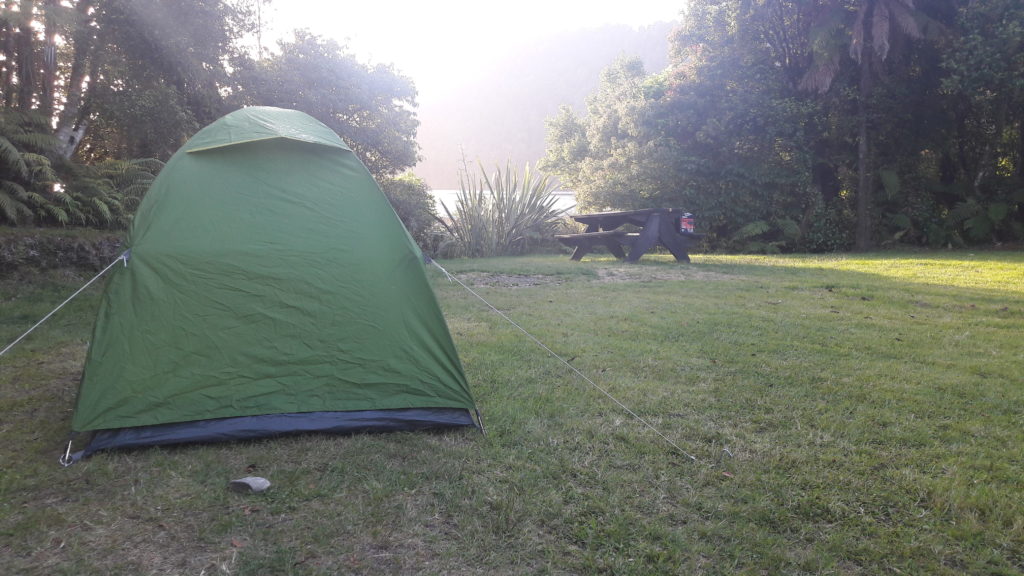 Hint #2: One thing we learned here the hard way is that in New Zealand, you need an insect repellent. There were many sandflies on that lake area, so we bought the repellent as soon as possible. They bite like musquitos – itchy stuff. And they are pretty much everywhere at the certain time of the day. So get the repellent, and your life will be better.
To finalize our trip in the west, we did an extra trek in the area of Okarito. Okarito is a small village and driving there, you will see many signposts of Kiwis by the road. There you can take a trek into the kiwi zone, a forest where kiwis live. But keep in mind that they are only active to be seen at dusk and dawn. During the day, your odds of seeing them are low.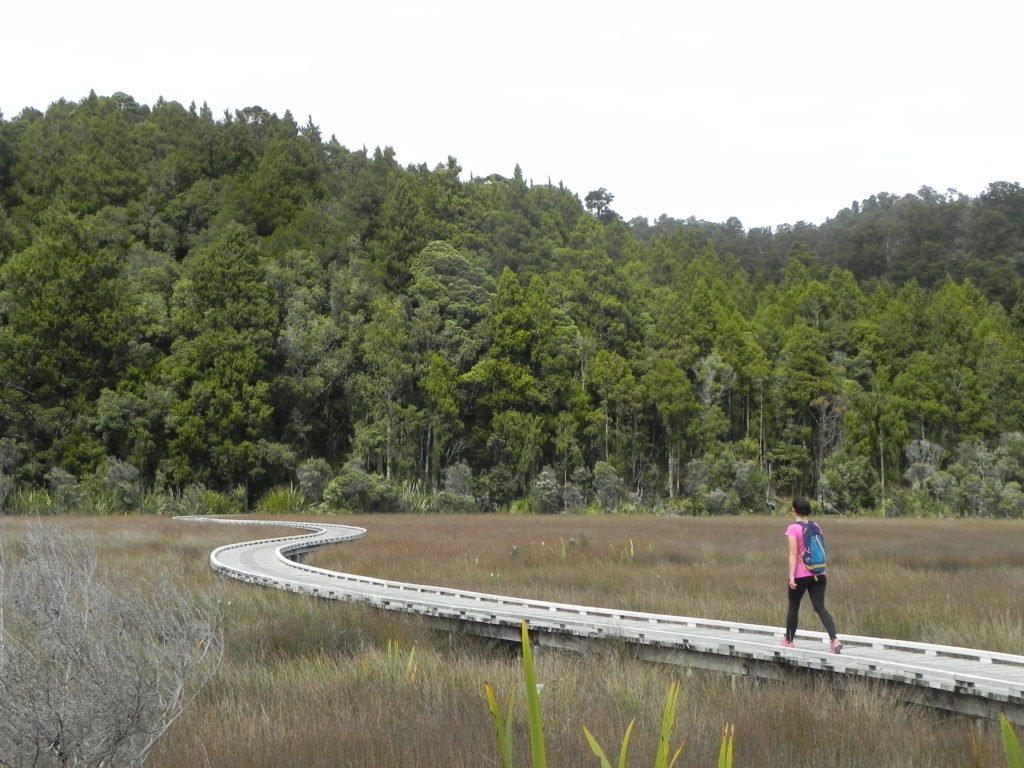 At the start and end of a hike, we talked with a nice lady who prepares really amazing ice cream from frozen berries there. Mmmm.. recommended!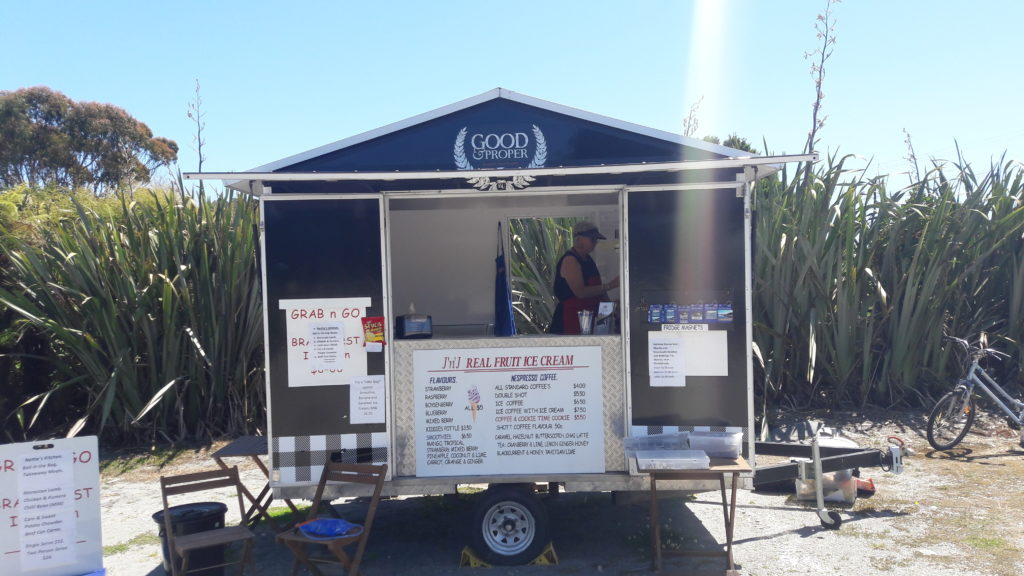 If you have any questions regarding New Zealand Southern Alps write in the comment below, we'll do our best to answer it. 🙂
Pin for later….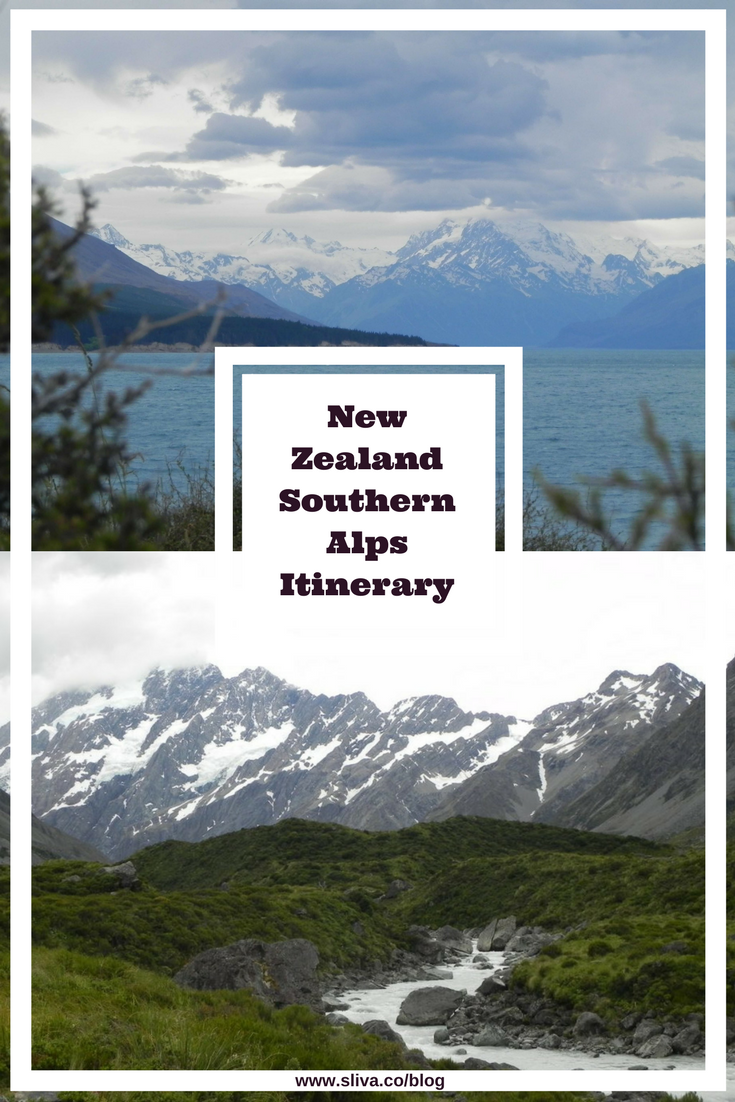 Author:
Matic
Matic is tech startup guy who loves to spend time outside. In his free time he is an true outdoor freak – he tends to surf, run and ride a mountain bike, and in the winter time just loves powder skiing and snowboarding. Matic also loves to travel, often has to because of work, and even more often because he wants to 🙂
If you like, please share and spread the love :)