Note: This is a guest post by Tjaša and Jan, a young couple from Slovenia on a road trip across Europe. They started their journey on 1st of July 2017 from Radenci, Slovenia and heading straight to Portugal to explore the beuaty of Europe. Because on every trip, a lot of wisedom is uncovered through adventure, we are very happy to share their diary with tips and thoughts on Sliva blog. Good luck on the road! 🙂 You can follow Tjaša and Jan on their adventures road trip on Instagram. 
DAY 3-5: From Monaco along the coast of France to Spain
From Monaco we went straight on a French motorway to sleep on the frist rest stop. France has pretty expensive motorways so we were exited to reach Spanish border, with our first stop in Lloret de mar. There are a lot of parking lots in this city, with one right at the beach, but if you don't want to spend unnecesary money, you can just ride away from the shore and find a free parking spot there. We drove a little up the hill from a supermarket called Caprabo and found a street with a few cars parked there – good enough for us.
Lloret de mar was our frist dip in the sea. The beaches are very crowded so we stopped just for a quick cool down, and then we went on a nice panoramic walk by the sea.
DAY 6: A day in Barcelona 
Our next day was spent in Barcelona. We parked at the Zoo parking and bought a metro ticked for the whole day, that got us around Barcelona with a few sights we wanted to see. For lunch we went to a little place called Veggie garden, but because it opened at 12:30 pm we grabed a quick juice at Flax & Kale – we highly recomend to stop there for a beverage.
After lunch we took our longboards and went to the beach. In Barcelona there is a very long track by the coast, very fun to ride with a beautiful view. We can only say it's a longboard paradise.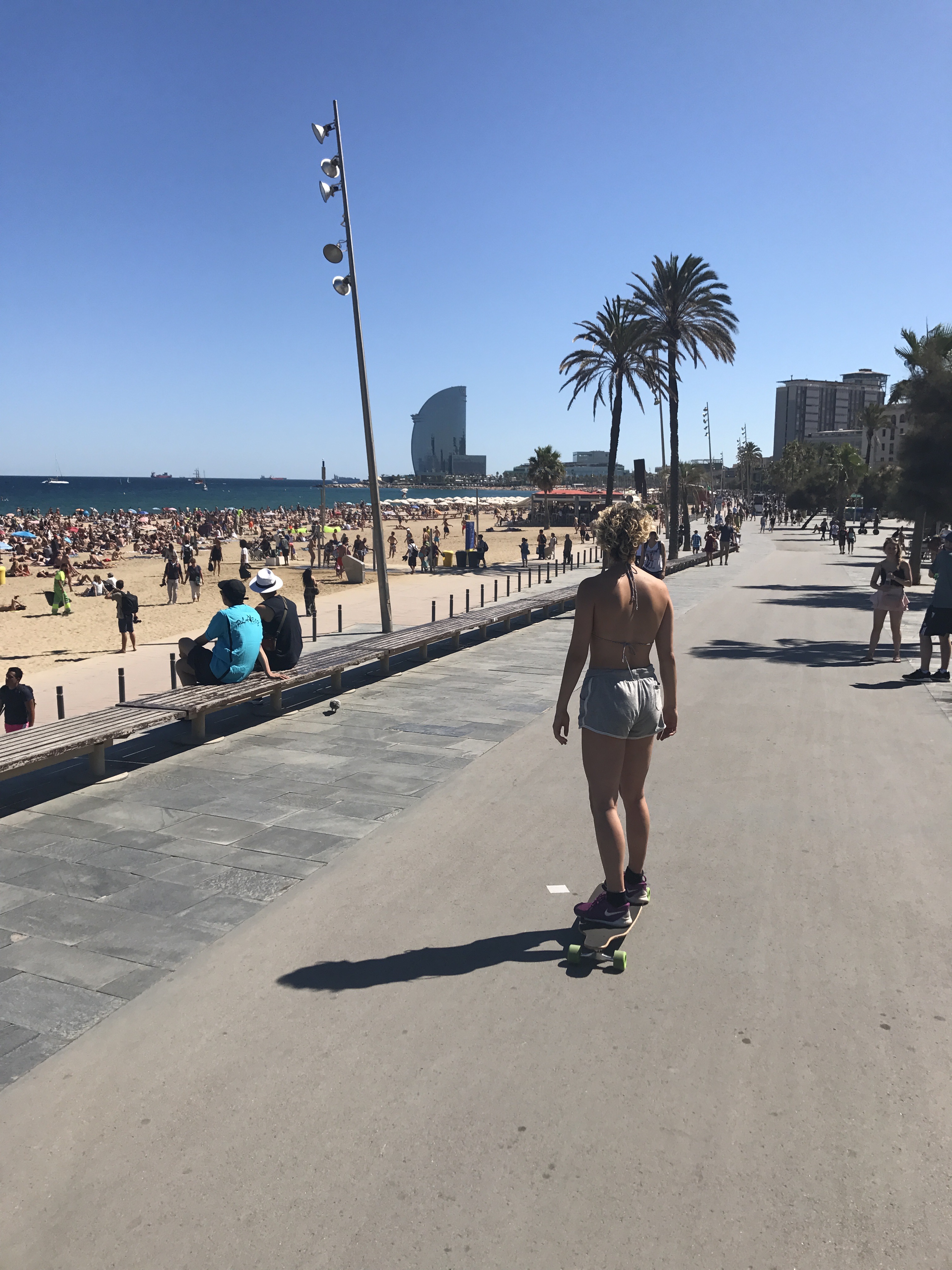 For dinner we pan-fried some potatoes we brought from home and added fresh vegetables, which ended up being the best dinner ever and showed that simplicity is the key, especialy at roadtrips.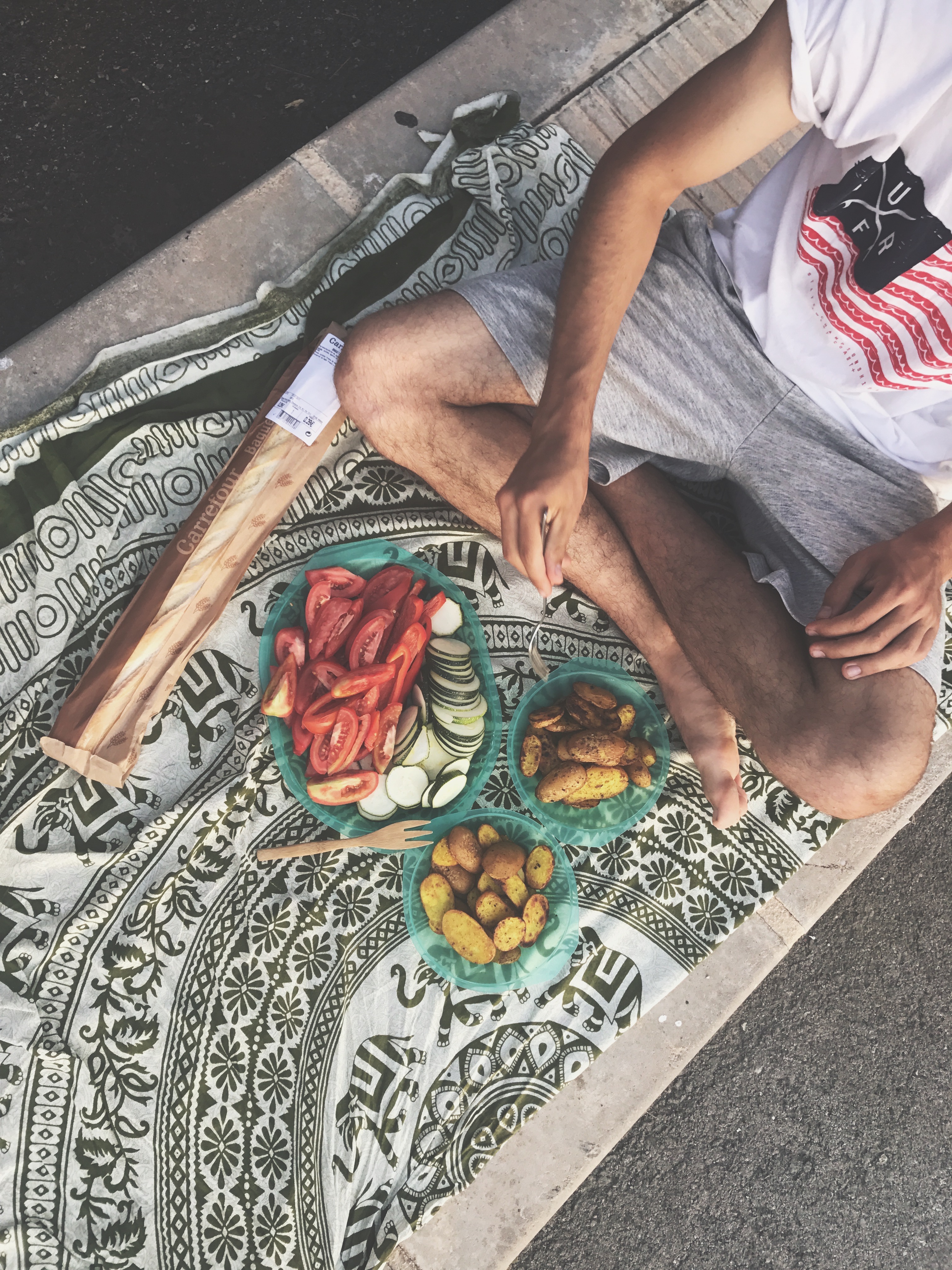 DAY 7-8: Sierra Nevada, Spain
We drove through Valencia to see the main attractions and then we were on our way to Sierra Nevada. We decided to stay at the campsite called Las Lomas where we laid out our slackline and just relaxed for a day. Las Lomas campsite is located in the National park of Sierra Nevada, with a view on a very big lake. There are hiking routes, kayaking, paraschuting and other activites nearby.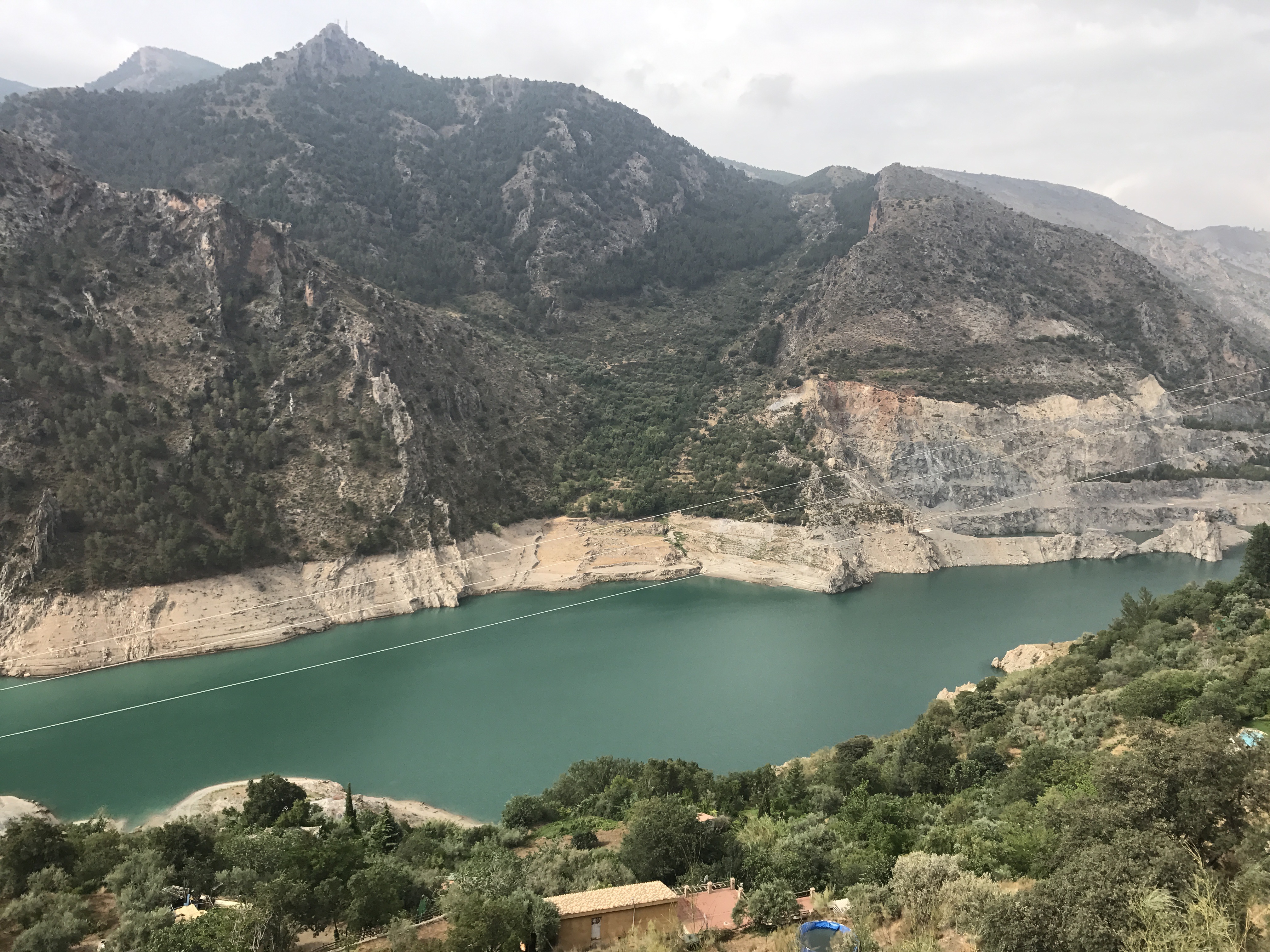 Read also the first part of Tjaša&Jan road trip "From Slovenia to Monaco", here.
Author:
Tjasa and Jan
Tjaša & Jan, a dancing champion and instructor & a student of law school and action sports fan, are a young couple from Slovenia on their trip around the Old Continent with an adapted van.
If you like, please share and spread the love :)