Buying a rain jacket is not a science, is it? Nope, but there are several variables you might consider before buying one. In that way, you will not need to buy one jacket for each of your activities, but only one that will fit perfectly for 90% of your time and of course for all of your outdoor activities.
What to consider when buying a light rain jacket?
There are a few variables you might consider before buying a functional light rain jacket for men.
This one is usually measured in milimeters. 2.000 mm means it's OK for the showers. 20.000 mm means it's top notch and will work even in a quite heavy rain. Decide what you need. I personally have 2: one with lower waterproofness that I use during the summers and travels, and one with a high one, which I use in the winter and in really challenging environments, such as a sailboat during the winter. Why? Take a look at the next point.
This one is measured in different ways, be it the amount of air which can go through the area of jacket, or the RET value, based on the ISO 11092 standard. The higher RET value means lower breathability. Levels up to RET 9 are quite useful for higher physical output activity such as fast hiking or slower running, while higher RETs mean that the jacket is less breathable so you will sweat sooner. If you're going after quality stuff, then usually the less waterproof jackets have a higher breathability. But it's not neecssary. However, I like to have one highly breathable and light, and the other one bit more heavy-duty.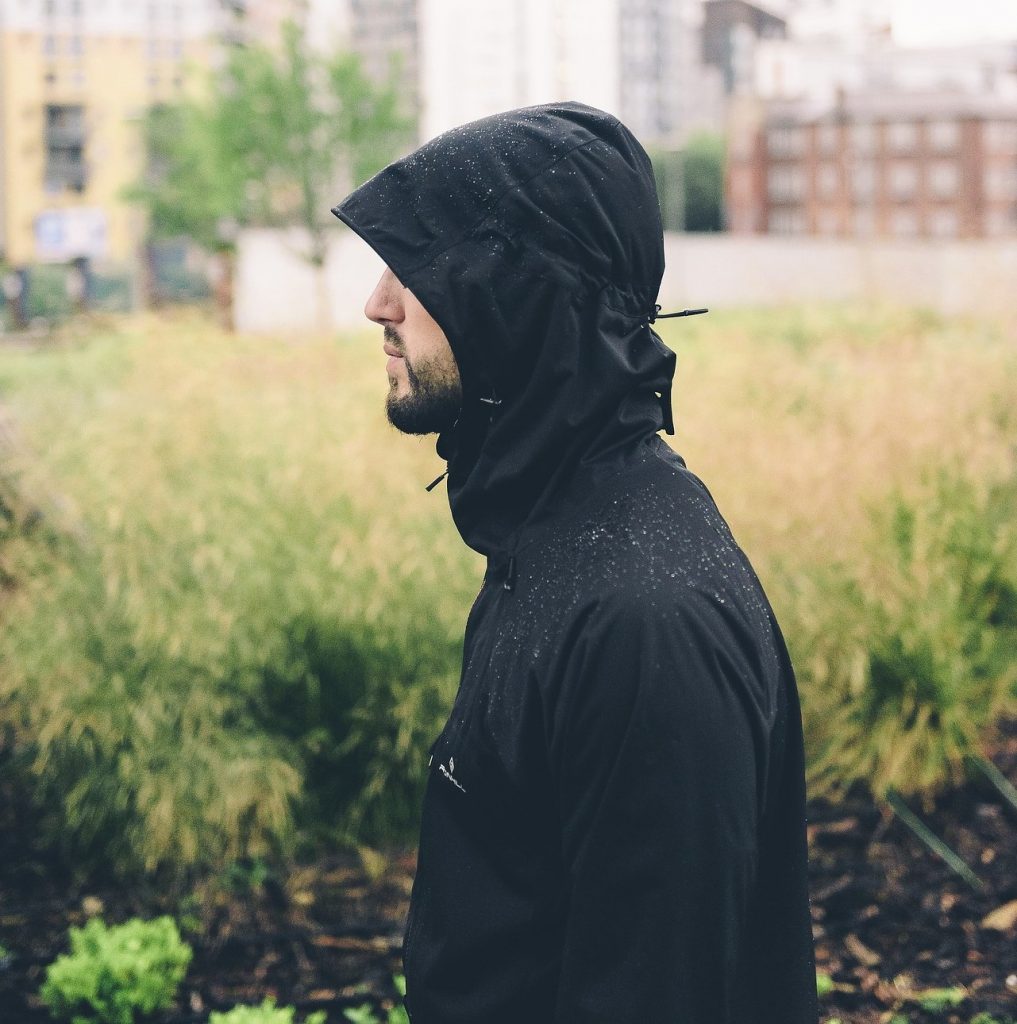 A jacket may be made just of a similar material as the tent is made of, and can be folded in a really small pocket. Or, it can be made of a thicker membrane material with some coating on top, which will also keep some warmth inside. Again, depending on your usage: on travels, you probably want a lightweight, breathable, moderately performing jacket. On the sailboat or a hike in the rainy mountains, you probably prefer something more heavy-duty.
By design, I mean pockets, zips, hood, and everything in-between. You may want a detachable hood. You may want a well adjustable one (that's smart!). It's good if you can unzip the whole jacket to take it off, so you don't have to take it off your head. Some pockets are a good choice. And then there is style, at the end of the day – you want something that doesn't make you feel bad, right?
Suggestions for light men rain jacket
I personally use light rain jacket for everything that is not an activity where high protection is necessary. That being said, 90% of the time, the light jacket is the best possible thing to have. Then for the specific activities, I have another one – but it's a jacket for those activities, not a general jacket.
Here are some best light rain jackets that are well made, stylish, cozy, breathable and – protect you well against rain!
That's as far as my personal experience with rain jackets goes. What are your preferences?
Pin for later…
Disclaimer: This post contains affiliate links. If you click on one and make a purchase, we might make a little extra spending money, at no extra cost to you. All opinions are our own and these products have been found useful during our travels and come highly recommended to you.
Author:
Matic
Matic is tech startup guy who loves to spend time outside. In his free time he is an true outdoor freak – he tends to surf, run and ride a mountain bike, and in the winter time just loves powder skiing and snowboarding. Matic also loves to travel, often has to because of work, and even more often because he wants to 🙂
If you like, please share and spread the love :)