First, ask yourself where you intend to hike. In general, with every sport you do, it's good not to be over-equipped, but also not to be under-equipped. For the hiking shoes, that translates to: you don't want to heavy and too robust shoes on one hand, but at the same time you don't want too lousy ones.
Things to consider before buying a pair of hiking shoes
In general, the things to consider when buying hiking shoes are:
The more difficult hikes you intend to do, the higher the shoes should be. Higher shoe protects your ankle in case you step badly, as well as in combination with waterproofness, keep the water out when you are crossing a shallow mountain river, for example.
You want a serious hiking shoe to be waterproof, except if you are heading to some dry area of the world – in that case, you want the shoe to be as breathable as possible, and waterproofness means less breathability.
Shoes for walking long distances on a harder area usually have more cushioning. This is ususally called, due to the material used, an EVA cushioning part in the shoe.
This one has a little science behind it as well. 🙂 The hiking shoe sole must provide traction on the uphills and downhills, and adequate protection. In some cases (for heavy stuff), it should even allow mounting of the spikes. As everywhere, with the sole, it depends on where you intend to walk: for easier long-distance hikes, you want a sole which will be able to whitstand the long-distance wear and won't be uncomfortable on the easier terrain. Those lighter soles are often designed in a way to provide a good uphill and downhill (braking) performance already, but have a bit harder rubber.
For the tougher mountain hikes, the soles usually get more profiled, and the rubber is a bit softer and more sticky – which improves the traction, but also decreases the durability on the paved terrain. There used to be an old saying among the hikers that Vibram is the seal of quality soles, and while this still holds true, there are other soles that are also very well designed and of high quality, such as Salomon's Contagrip rubbered soles.
The warmth

this one is something to consider as well. Are you going to use them in the winter? In that case, having some insulation, like Thinsualte, can be welcome. If you are heading to some very warm area, you may prefer some lighter and very airy hiking shoes.

Design
Be careful that there are no seams on the areas inside, where your feet are touching the shoe, that's usually in the back of the shoe, and on the sides. Those seams, even though they make the shoe last longer, can be a good reason for the splinters.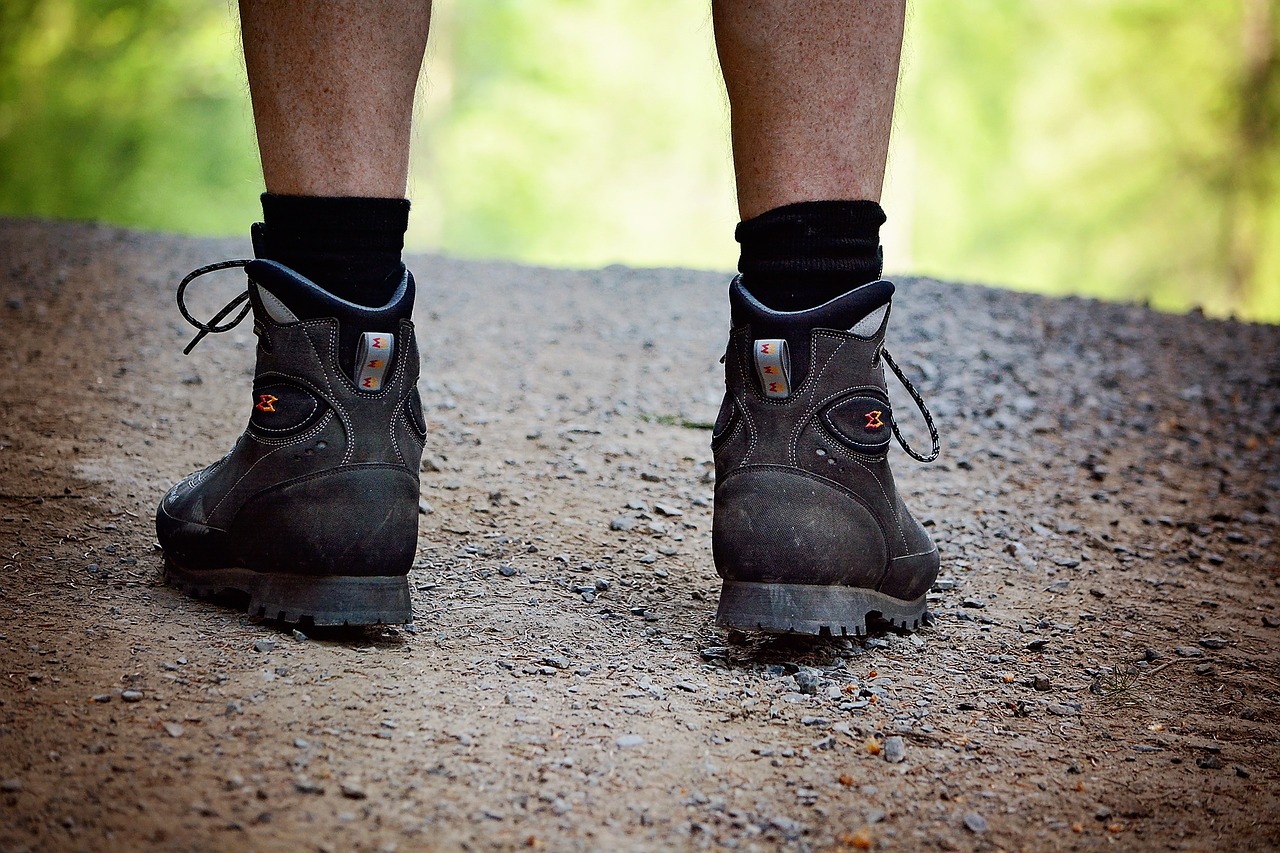 Which socks to use in hiking shoes?
There used to be a saying that you should use 2 pairs of socks in the hiking shoes, years ago: first a layer of cotton, then a layer of wool. This is not particularly true anymore: instead, it's recommended to get the socks with good transpiration and get the right fit of the shoes, so instead of having wet and warm feet, you have dry and well temperatured feet at the end.
In the winter, a combination of good hiking socks
and a layer of wool can be a good option if you intend to use the same pair of medium-heavy hiking shoes as you use in the summer. However, you may be lacking space for the wool socks, because you want in general the hiking shoes to be tight on your foot when using a single pair of technical hiking socks. By assuring that the shoes are tight and don't move on your feet, you reduce the probability of splinters.
Having good hiking socks is important for the best possible hiking experience! That's why I can highly recommend you Merino Wool Hiking & Trekking Socks by DANISH ENDURANCE. The great thing about merino wool is that it keeps feet warm in the winter and fresh and cool in the summer.

Suggestions for buying hiking shoes
When first trying the hiking shoes, you may look for ones which are a little bit tight. With the time they will wear out and become more comfortable, but your feet won't move in them, so you won't be getting splinters. You don't want splinters, they hurt. So buy the shoes which are tight (but not so tight that it's annoying! just "wearable tight") when you first try them on, and then wear them out into what you want them to be.
The nice thing about the good quality hiking shoes, even though they may be a bit more expensive, is that they are built to last. And they will become their best after you wear them out.
As with everything, it all depends on where you intend to use the hiking shoes, and how much do you intend to use them. I have 1 pair of "medium-duty" hiking shoes which can accomodate most of the needs I have. They have EVA cushioning, a medium-profiled Vibram trail sole with a design for good traction on both uphills and downhills, and a GoreTex membrane with increased breathability for the waterproofness. I use them for easy hikes in the winter, heavier hikes in the summer, and for many things inbetween.
Here are some suggestions that may be considered as "middle" which will fit for a widest range of hikes:
What are your experiences with buying hiking shoes? Any other recommendations? 
Pin for later…
Disclaimer: This post contains affiliate links. If you click on one and make a purchase, we might make a little extra spending money, at no extra cost to you. All opinions are our own and these products have been found useful during our travels and come highly recommended to you.
Author:
Matic
Matic is tech startup guy who loves to spend time outside. In his free time he is an true outdoor freak – he tends to surf, run and ride a mountain bike, and in the winter time just loves powder skiing and snowboarding. Matic also loves to travel, often has to because of work, and even more often because he wants to 🙂
If you like, please share and spread the love :)